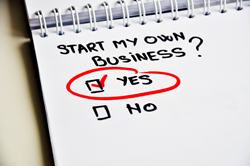 Once the decision is made, there is a way to "ease into" your new business.
Boise, ID (PRWEB) March 18, 2014
After working all his life at a 9-5 job, if a fortune-teller had told Bob Schwenkler that twenty years from now he'd have a hugely successful international business, he never would have believed it. "I'm not alone in the desire to have your own business... poll after poll shows over half of us do," says Bob.
The year was 1993 and his future was set into motion with a shock: "Friday morning at work my boss called me in, and 30 minutes later I was walking out the door with the contents of my desk, not to come back on Monday," Bob explains.
"Just like that, I'd been 'downsized, capsized, rightsized' from what I'd thought was a secure engineering job. Yes, it was happening back then, too, and it took this kind of a rude awakening for me to realize that the term "job security" was an oxymoron. It seemed like a very long 15-minute drive home, and as I entered into the doorway of my home, my wife asked why I was home early. Nothing like this had ever happened to me before – it was quite shocking."
Back then, he never could have believed that this would be the beginning of a path that would lead he and his wife to where they are today, enjoying the freedom of operating their own business from home and making several times his previous salary while doing it. And yet after several years and twists and turns, that's exactly where they've been led.
How did Bob do it, and what are the most powerful ways to break free from your 9-5 and find real job security in 2014? Read on to find out.
1. Become a consultant:
After getting laid off from his job, Bob made a decision that seemed kind of natural at the time. Looking back, however, he now realizes that it was a huge decision given the fact that he had a young family of three kids, a stay at home mom, and only a few month's severance pay and minimal savings. "I decided to take fate into my own hands and strike out on my own as an independent consultant in my field of expertise, process development, with a goal of developing a new product idea," says Bob.
The truth is, many people who have solid work experience also have expertise that can be translated into consulting, and industries are shedding full time employees and bringing in part time consultants instead. The flexibility of consulting and the idea that they typically receive higher per hour pay means there will be more time to do other things: to work on a start up business, to help with family duties, and to help free up a spouse who may be working on his or her start up business.
2. Network Marketing:
"About this same time, my wife Trish was wondering what she was going to do now that the kids were in school," says Bob. "She began taking classes at a local university, but had a hard time sitting due to longstanding back pain that the doctors couldn't help."
As fate would have it, Trish was introduced to an alternative health product that helped tremendously. With her faith in the product as fuel, she decided to try her hand marketing this product. The consulting Bob was doing fit in perfectly, bringing in sustenance while allowing him to help with family duties and devote some tech time to her fledgling business all while working on his own startup as well. Over the next several years, Trish's network marketing business developed a life of its own, and after four years Bob put his venture on hold and joined his wife mostly full time and rarely looked back.
Today Bob and Trish run a highly successful international business from the comfort of their home. "No one can downsize us, we wholeheartedly believe in the products we represent, and we're completely in control of our own destiny," Bob states.
3. Have an idea? Kickstart a business:
Over the years Bob has been involved with numerous startups, "although perhaps a better term would be start-ups, then downs," laughs Bob. From photovoltaics in the 80's to his venture in the 90's to more solar ideas and friends doing 3d printers now, 4 out of 5 of these ideas never took off (the last is still a work in progress – its first try at Kickstarter didn't quite kick any butt).
The verdict? For people who have a brilliant concept burning in their brains, startups can be hugely successful. However, they're also risky: the SBA reports that some 50% don't make it past year five. The startup can be well worth trying for, but don't bet the farm on the success of a new business.
4. Writing:
With the rise of self-publishing and the ubiquity of the Internet, just about anyone can become a published author these days with the click of a button. And for some people, it works, allowing them to make full-time incomes through e-book publishing, online product sales, or ad revenue.
But not so fast – before making plans to quit the day job, it's important to realize that although there's more opportunity for authors and bloggers today than ever before, the low barrier to entry also means that the marketplace is crowded with content. Ask any author or blogger who makes a living online and they'll be quick to admit that it took them years of hard work and sweat to hone their skill and build an audience base – all before making a penny.
5. Franchise:
Franchises can be a viable option for people who are able to make the investment. Most people don't have that $50k to $100k+ startup cost handy so the entrance field is limited. On the upside, franchises come with a proven business model so you don't have to reinvent the wheel, and the new franchise is likely to bring in sustenance early on.
On the downside, franchise fees can eat into profit. For those who took out a business loan to get started the model can provide sustenance, but on the downside that loan is hanging over franchisee's heads. "I recall being at a restaurant awhile ago and was curious if the energetic guy walking table to table was the owner. I asked him and he replied 'Well, yes, in a sense, but the bank is really the owner here for the next 5 years,'" recalls Bob. And franchisees must be prepared to deal with the quirks of having employees, covering for the no shows, hiring, firing, payroll, etc.
"Over the years, I've found that security does exist," states Bob matter of factly. "It just doesn't exist where we've been most conditioned to look for it: in a job. Instead, it exists in our own resourcefulness, initiative, and in our ability to spot an opportunity and take it as far as we can with all we've got."