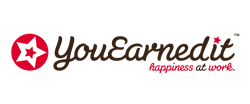 YouEarnedIt is one of the Top Ten Austin Startups to watch at SXSW. Their service is a must-have for any tech company with more than 20 employees. - Joshua Baer, Capital Factory
Austin, TX (PRWEB) March 06, 2014
Today, YouEarnedIt, an award-winning employee engagement software startup, announced that on Sunday, March 9, 2014 it will present as one of thirteen finalists at the UP Global & The Kauffman Foundation Startup Oasis Pitch Hour, sponsored by Bigcommerce and NASDAQ. They have also been invited to participate in this year's HATCH pitch competition on Monday, March 10, 2014. Both events take place during Austin's South By Southwest Interactive.
Austinpreneur and Capital Factory Executive Director Joshua Baer said, "YouEarnedIt is one of the Top Ten Austin Startups to watch at SXSW. Their service is a must-have for any tech company with more than 20 employees."
At the UP Global Pitch Hour, YouEarnedIt will have just 60-seconds to bend the ear of the judges and field questions from multinational, Fortune 500 company leaders including heavy hitters such as AOL founder Steve Case, Aya Zook, Principal of Microsoft Ventures, Barry O'Brien, Managing Director at Silicon Valley Bank, Bachir Zeroual, Head of Global Marketing Ventures for The Coca-Cola Company, Bob McCooey, Senior Vice President with NASDAQ OMX and Kirsten Knipp, Vice President of Product Marketing & Brand at Bigcommerce.
At the HATCH Pitch Startup Village, presenters Autumn Manning, CEO, and Tim Ryan, Director of Happiness Marketing, will give a four minute presentation intended to wow the panel of corporate, angel, and venture investor judges by illustrating how their simple, fun, and flexible SaaS platform helps companies foster engagement in the workplace, fuel authentic employee connections, and give back to meaningful causes in the community.
"It's a prestigious honor to be included in the top HATCH pitch finalists chosen from applicants around the world. We are thrilled that YouEarnedIt is included as one of those select few and indicates they are being recognized for their standout innovation and talent. HATCH pitch, the revolutionary pitch competition at SXSW 2014, features finalists from innovative startups from around the world," said Greg Wright, HATCH pitch founder.
YouEarnedIt, who this past fall was voted to the Austin Chamber A-List for start-ups and cited in Entrepreneur Magazine's 100 Brilliant Companies of 2013, has a fresh approach to intrinsic and extrinsic motivation which is grounded in positive psychology, reinforcement, and happiness at work. By combining the science of happiness with the transparency of social recognition along with the accessibility of the digital cloud (web and mobile), they help create environments where employees are more deeply engaged at work. This bottom-up, democratic approach empowers employees to actively contribute to how people are recognized and rewarded. YouEarnedIt facilitates real-time and relevant recognition, so whether day-to-day work interactions take place face-to-face or virtually across continents, anyone from an Admin to a CEO can appreciate their co-workers at anytime for any reason.
Additionally, YouEarnedIt offers flexibility in the types of rewards offered. While gift cards and products are certainly a part of the catalog, innovative companies across all industries are adding custom rewards finely tuned to their culture like company swag, coffee with the boss, custom Converse, team building experiences and giving back to local non-profits through donations to charitable organizations such as DonorsChoose.
Multiple thousands of happy end users and customers like Conde Nast, Kaiser Permanente, Ogilvy & Mather, Mass Relevance, and Y&R are among those utilizing YouEarnedIt's customizable rewards platform to acknowledge and appreciate their peers with fun and creative offerings that boost employee engagement, connection and overall happiness at work.
YouEarnedIt is scheduled to present on Sunday, March 9th at 4:00 p.m. at the UP Global & The Kauffman Foundation Pitch Hour at Old School Bar & Grill, 401 E 6th St Austin, TX 78701. And again on Monday, March 10th at 9:00 a.m. at The HATCH Pitch event, part of SXSW's Startup Village, in the Hilton Austin Downtown, 500 East 4th Street, Austin, TX 78701- Salon A on the 4th floor. Both events are free and open to all SXSW Interactive, Gold and Platinum badge holders.
About UP Global:
UP Global is a Seattle-based non-profit and global partnership from Startup Weekend and Startup America dedicated to fostering entrepreneurship, grassroots leadership, and strong communities by connecting entrepreneurs with their communities and the resources they need most. For more info, please visit: http://www.up.co/ or connect with us on twitter @UPGlobalHQ and Facebook at facebook.com/upglobal.
About HATCH pitch:
HATCH pitch is the revolutionary pitch competition for tech startup companies making life better. Playing to capacity audiences at SXSW in Austin the past two years, HATCH pitch returns to SXSW Interactive on March 10, 2014. Previous winners Distil Networks, RideScout, and Realty Mogul have garnered phenomenal attention from the press and investment communities. Distil received a $1.8 million seed investment from a HATCH pitch judge after winning HATCH pitch 2012. For more info, please visit: http://www.hatchpitch.com or connect with us on twitter @HATCHPITCH and Facebook at facebook.com/HatchPitch.
About YouEarnedIt:
YouEarnedIt fosters happiness at work through a simple, fun, and flexible employee engagement software. With real-time peer recognition and custom rewards that help people give back to their local communities or redeem for other meaningful and fun rewards, YouEarnedIt allows companies to implement a simple yet powerful approach to recognition, reward, and employee engagement.
The YouEarnedIt team believes in the science of happiness to foster better work environments and more engaged employees all around. YouEarnedIt is headquartered in Austin, Texas. For more info please visit: http://www.youearnedit.com or connect with us on twitter @youearnedit and Facebook at facebook.com/YEI.happinessatwork.
Media Contact:
Autumn Manning, CEO
YouEarnedIt
autumn(at)youearnedit(dot)com
(479) 236-2698