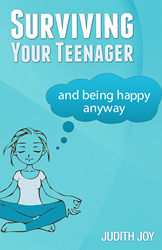 Happiness is a choice... It's just a matter of perspective.
Pensacola, FL (PRWEB) March 06, 2014
It seems that hardly a month goes by without some story involving teens and terrible trouble: A Florida youth is shot after playing his music too loud; another teen opens fire in a school. It's a wonder any parents survive their own teenage children.
A new book by a noted self-help expert takes a strikingly different approach to the dealing with increasingly challenging young rebels. Surviving Your Teenager: And Being Happy Anyway helps parents understand that it's more about changing themselves – and finding themselves – than changing their unruly teens. By trusting their intuition and utilizing love, respect and humor, parents can "find the happy you within you," which allows their children to do the same. When her 17-year-old woke up with an obvious hangover, the author didn't yell and lecture him (as she had with his older brother). Instead, she let him understand the consequences of his actions. When a teen says to "back off," that he can do things on his own, he may have a point.
Author Judith Joy is a mother of four (including one who is still a teenager), an empowerment coach, a Matrix Energetics-certified practitioner, teacher and writer. Joy has been featured on ABC's "Tuesdays With Dan," late-night talk show, and is one of the many groundbreaking new writers discovered by Indigo River Publishing. Joy has explored alternative healing therapy for years, and now brings an alternative approach, with simple exercises and a companion DVD to dealing with teens and reducing the stress in parents' lives.
"This is NOT a book about raising your teenager," Joy explains. "This is NOT a book about changing your teenager. This is NOT a book about asking or forcing other people to be different. This IS a book about surviving your teenager. This IS a book about changing how you react to all the crazy stuff your teenager will throw in your path. This IS a book about letting go of the ludicrous idea that you can only be as happy as your unhappiest child."
For more information, go to http://www.indigoriverpublishing.com.