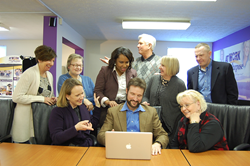 "Building respect and trust, engaging in effective confrontation and stopping stinkin' thinkin' are the main areas that, when done well, greatly improve the quality of our lives and careers," said Lynne Ruhl, expert on healthy corporate cultures.
Cincinnati, OHIO (PRWEB) March 11, 2014
SkillSource Business Builders® will host a series of seminars beginning this month to help executives and employees improve listening skills, build respect and implement effective conflict resolution in the workplace.
The series, called "Relate," is designed to help organization leaders and employees assess their skill sets and work on improving communication so they can be more effective in their jobs and relationships, said Chuck Proudfit, SkillSource founder and president. All seminars will be held at the Sharonville Convention Center in Cincinnati from 8 a.m. to 12:30 p.m. or 1 to 5:30 p.m.
Seminars topics and dates are: "Respect: The Skill of Listening for Understanding" on March 20, April 17 and May 15; and "Manage Conflict: Understanding and Managing Conflicts," on March 20, April 17, and June 19.
"Dare to Confront: Confrontation Paradigm Shift" will be held May 15 and June 19.
SkillSource, with offices in Mason and Blue Ash, has focused since 2008 on increasing services to help businesses build productivity within their organizations.
The interactive seminars offer fun, active and life-changing material, said course spokeswoman Lynne Ruhl, who leads the program. Ruhl is an expert in healthy corporate cultures and president of Perfect 10 Corporate Cultures, a SkillSource initiative. She is a public speaker and author of Three Impossible Promises, the story of how a transformed culture can positively impact an entire industry.
Ruhl is best known locally for the 18 years she spent training and mentoring athletes, staff and two-time Olympic coach Mary Lee Tracy at Cincinnati Gymnastics Academy in relationship and quality-of-life skills. She has worked on mental training with some of the finest athletes in gymnastics, including 1996 Olympic Gold Medalists Amanda Borden, Jaycie Phelps and three-time World Champion and 1992 Olympian Kim Zmeskal.
"When people contact me and ask how they can attain the corporate culture they want for their organization, they soon realize they don't have the skills to accomplish it," said Ruhl. "Typically, we aren't taught these skills anywhere.
"Building respect and trust, engaging in effective confrontation and stopping stinkin' thinkin' are the main areas that, when done well, greatly improve the quality of our lives and careers."
Respect, she said, is essential to a positive corporate culture and listening is the only way to establish respect. Respect is also the foundation of resolving conflict. Research studies indicate that organizations with healthy corporate cultures have more satisfied employees, higher productivity and more profits than organizations with unhealthy corporate cultures.
"Most of us don't know how to confront and have a good outcome," said Ruhl. "If we are not confident about what to say and how to say it so that resolution is the result, we won't take the initiative. It also really helps when a work team takes this series together because as coworkers use these tools in the office, they will have a common language in order to come together."
Eventually the Relate series will include courses on managing stress and burnout, how to value difference (gender, generational, etc.), how to build trust, situational leadership and more.
"The ability to relate well and communicate effectively with people is the most important skill we can learn that directly affects our effectiveness at work," said Ruhl. "In essence, communicating honestly, effectively and building trust is job security."
Skills Ruhl will teach participants can also cross over into the home and family, improve personal relationships and even work with people you meet at the supermarket.
Cost is $125 per person per seminar, with advance registration needed. To reserve a place, contact Laura Jackson, SkillSource business development officer, at (513) 477-2652 or email ljackson(at)skillsource(dot)com.
For a complete list of series presentation dates through November, go to http://www.skillsource.eventbrite.com.
SkillSource helps businesses deliver sustainable growth in sales and profit through improving people's productivity.
Perfect 10 programs help companies nationwide assess, improve and certify positive organizational corporation cultures.
For more information about SkillSource, go to http://www.skillsource.com or call (800) 513-9580.
Contact:
Laura Jackson
Business Development Director
Email: ljackson(at)skillsource(dot)com
Phone: (513) 477-2652
SkillSource Business Builders helps small and medium-sized businesses build, develop and implement strategies and tactics to improve marketing; develop leaders; improve corporate cultures; and define a compelling purpose for organizations and the people within them.