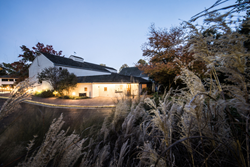 Vienna, Virginia (PRWEB) March 06, 2014
Linda Eder
Thursday, April 3, 2014 at 8 pm
$44–$48
"But it is her voice—a rangy, flexible throb driven by a seemingly inexhaustible stamina and topped with high notes that grow larger and fuller as she moves up the scale—that leaves you open-mouthed," The New York Times said of alluring Broadway star Linda Eder. The dazzling vocalist first attracted attention during the 1987 season of the American talent competition Star Search, which she won for an unprecedented 12 weeks. Eder went on to perform on Broadway in the musical adaptation of Jekyll & Hyde in the role of Lucy—for which she received a Drama Desk nomination. More recently, Eder released an original album, Now, in 2011 and a holiday album titled Christmas Where You Are in 2013.
Video: Linda Eder – "Someone Like You" (from the musical Jekyll & Hyde)
BandHouse Gigs' George Harrison Tribute
Featuring:
Naked Blue, Todd Wright, Margot MacDonald, Mike Clem, Nate Ihara, Cal Everett, Patty Reese, and more!
Friday, April 4, 2014 at 8 pm
Saturday, April 5, 2014 at 7:30 pm
$25–$27
George Harrison, lead guitarist of the Beatles from 1960 to 1970, has been inducted into the Rock and Roll Hall of Fame twice, first as a member of the Beatles in 1988 and again in 2004 for his solo artist work. In addition to these honors, Harrison was named the 11th greatest guitarist of all time by Rolling Stone in 2011. Because of Harrison's iconic influence on the music industry, BandHouse Gigs will be performing a George Harrison Tribute at The Barns, which will feature artists from the greater Washington D.C. area, including singer/songwriter Margot MacDonald; eccentric master guitarist, mandolinist, and harp player Mike Clem; and Beach Boys cover artist Cal Everett. Other performers will include folk/pop group Naked Blue, Washington D.C. singer Nate Ihara, and singer/songwriter Todd Wright. More artists will be joining them in this spectacular tribute.
Video: BandHouse Gigs – Tribute to Woodstock
Tickets can be purchased online at wolftrap.org or by calling 1.877.WOLFTRAP
For more information, call The Barns at Wolf Trap at 703.938.2404 or our general information line at 703.255.1900.
High-resolution images of the artists listed are available on Wolf Trap's website: wolftrap.org/Media_and_Newsroom/Photos_for_Publication.aspx.
###