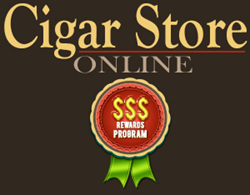 We couldn't agree more and have developed the industry's first Cigar Customer Loyalty Program.
(PRWEB) March 07, 2014
Cigar Store Online is giving back to every loyal customer through the Customer Loyalty Program.
Cigar Store Online also serves as an informational website for cigar enthusiasts. From choosing the right product to lighting a cigar, the online cigar store products and accessories hub has given customers the comprehensive information they need.
"Based on a recent poll we did with many of our customers, you told us you wanted to be rewarded for your loyal patronage," said the Cigar Store Online team. "We couldn't agree more and have developed the industry's first Cigar Customer Loyalty Program."
Designed with loyal customers in mind, the Cigar Store Online Rewards Program is anchored on "the more you buy the more you earn" principle. The program automatically enrolls all customers with store accounts, while others without one can create theirs via CigarStoreOnline.com. Signing up entitles members to receive 500 reward points.
For every $1 spent at CigarStoreOnline.com, customers get 100 reward points. Every successful referral, on the other hand, takes 15% off the original price of their order. Rewards are redeemable through the Rewards Redemption Page which can be accessed through the Rewards Widget located at the bottom page of the online shop.
For years, customers have been choosing the cigar product of their choice from top-rated brands – including Arturo Fuente, Rocky Patel, Cohiba, AVO, Perdomo, CAO, Zippo, Xikar and thousands more. Now more than ever, customers enjoy a much sweeter deal with much-needed savings they can get through the Rewards Program.
The rewards, which can be used for all purchases on the website, are issued as coupon codes or store credits and should therefore be applied upon checkout.
To find out more about Cigar Store Online's ongoing Customer Loyalty Program, please visit http://www.cigarstoreonline.com/ and get more savings with every purchase.
About
Cigar Store Online is home to a wide selection of cigars, humidors, accessories, personalized gifts and more. The website offers a variety of high quality, low priced humidors and accessories for the smoking enthusiasts who insist on enjoying a hassle-free online purchase.