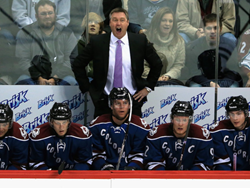 Denver, CO (PRWEB) March 06, 2014
The Olympics may be history, but the sports beat goes on. Now, amidst the daily buzz of pre-season baseball and late season basketball, hockey is also taking center stage down the stretch. With less than 25 games left in the 82-game regular season, ticket sales are breaking loose for several of the sport's 30 squads.
Colorado, in particular, has triggered a late season avalanche of interest and is currently leading the NHL in team ticket sales. The Avs, who went 16-25-7 with 39 points for worst place in the West last season, have come roaring back into the playoff picture this year.
During the offseason, the team hired two of the most popular players in their history, Joe Sakic and Patrick Roy, as VP of operations and coach. The team also won the draft and used the top pick for promising young center Nathan MacKinnon who currently ranks second on the team in goals scored. All this appears to be paying off in the club's current 40-17-5 record.
"While Monster Jam, NBA Basketball and MLB Baseball tickets are trending, we're seeing a dramatic increase in sales for NHL tickets, especially for the Colorado Avalanche, as well as New York Rangers and Boston Bruins," said Marta Ault at online ticket marketplace BuyAnySeat.com.
"That's why we're proud to offer sports fans the most comprehensive and continuously updated selection of sports tickets online, with a worry-free guarantee to protect their purchase," added Ault.
"To access the full line-up of NHL Hockey tickets now available, customers can go to BuyAnySeat.com and click on NHL Hockey – then select their team and their tickets."
Colorado reached the 40-win mark faster than any team in franchise history after defeating the Chicago Blackhawks 4-2 on Tuesday night. The Avalanche improved to 3-1 against the Blackhawks this season and moved within one point of the reigning Stanley Cup champions for second in the Central Division.
While hockey tickets are heating up down the stretch, they have been a big hit all season. In January, puck lovers set an NHL attendance record when 105,491 resilient souls braved ruthless subzero temperatures to take in the Winter Classic at Michigan Stadium on New Year's Day. Over 8.2 million tuned into the TV broadcast making it the most watched regular season game of all time.
After setting more viewership records during the Olympic Winter Games, hockey fans are eager to see their favorite players back on home ice. In both the Eastern and Western Conferences, less than five points separate the league's top teams as they duke it out for home ice advantage. A precious eight playoff spots are available in each half of the league, and every game will come down to the wire in the next month and a half.
The top ten teams in this week's Power Rankings are the Anaheim Ducks, St. Louis Blues, Chicago Blackhawks, Colorado Avalanche, Boston Bruins, San Jose Sharks, Pittsburgh Penguins, Montreal Canadiens, Tampa Bay Lightning, and Los Angeles Kings.
The Avs face the Detroit Red Wings tonight away, then host a series of tough games against the St. Louis Blues, Winnepeg Jets and Chicago Blackhawks before meeting the top ranked Anaheim Ducks on the road.
To shop for NHL Hockey tickets, visit BuyAnySeat.com.
About BuyAnySeat.com: An online ticket marketplace, BuyAnySeat.com connects sports, theater and other live entertainment fans to an extensive network of ticket sellers worldwide. The site's simplified listings and navigational tools enable shoppers to easily locate, compare and purchase inexpensive, discounted or lower-priced tickets to virtually all advertised sports and entertainment events around the globe.
The ticket marketplace, which is PCI-compliant and Norton Secured, also provides customers with a complete Worry-Free Guarantee on all ticket purchases. Based in Denver, Colorado, BuyAnySeat.com is a subsidiary of Denver Media Holdings. For more information, please visit http://buyanyseat.com.