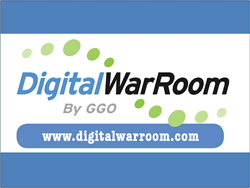 "Content Analytics technology plays a key role in revealing the important players, events, and conversations that help attorneys build a winning litigation story." Megan Miller, Digital WarRoom
Seattle, WA (PRWEB) March 06, 2014
Digital WarRoom, the ediscovery experts driving the move toward accessible, affordable ediscovery solutions, announced today that CTO Dan Gallivan will join a panel at the 2nd annual conference "Electronic Discovery for Small and Medium Cases". The conference will be held at the University of Florida, Levin College of Law, on Friday March 14, 2014. Sessions will also be streamed live online.
William Hamilton, Executive Director, University of Florida E-Discovery Project; Partner, Quarles & Brady LLP; and Provost at Bryan University, and George Socha, Co-Founder, EDRM; and President, Socha Consulting LLC, chair the annual event, and make an effort to focus on solutions to the difficulties, issues, and decisions that attorneys face in competently and cost-effectively handling e-discovery in small and medium cases.
The conference sessions will address the challenges attorneys face in collecting, processing and analyzing email, documents, images, social media posts, and other content to build an effective story on behalf of the client in a litigation case. Dan Gallivan will demonstrate features in the Digital WarRoom WorkGroup ediscovery software that effectively identify key players in a case, analyzing conversation patterns and interactions.
"We are pleased to contribute to this important educational effort", said Megan Miller, vice president of marketing and educational programs at Digital WarRoom. "The majority of civil litigation cases could be considered 'small or medium' cases, involving fewer than a hundred thousand documents. We recently introduced Digital WarRoom Express – a simple, yet complete ediscovery software tool designed for cases with 50 GB of data or less. At $99 for a full year of use, DWR Express is an easy and affordable way for attorneys and litigation support teams to get started in ediscovery."
About the Digital WarRoom E-Discovery Platform
The Digital WarRoom technology platform is a robust e-discovery architecture designed to support fast and efficient ESI processing, content analysis, review, marking and production of email and documents in response to litigation, investigations, M&A Transactions, and other legal challenges. The Digital WarRoom products are offered in several configurations:

About Digital WarRoom
Digital WarRoom is the first ediscovery platform to provide law firms, corporate legal and ediscovery teams with complete ESI processing, document review and production in a single application, eliminating traditional high-cost volume-based processing fees. The Digital WarRoom technology was designed for in-house use by large law firms and corporate legal teams to address document processing, review and production in legal matters of all types.
The Digital WarRoom platform is unique in its ability to create and save case data in a portable form. A case database created on any Digital WarRoom product can move seamlessly to any other Digital WarRoom product, with all attorney work product preserved. This unmatched flexibility allows organizations to cost effectively handle an entire portfolio of matters in-house, while retaining the option for full-service hosted review on larger, complex and global matters. To learn more about Digital WarRoom visit http://www.digitalwarroom.com.