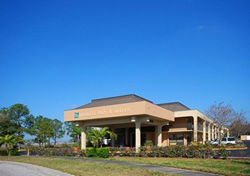 "Coupons and deals are a thing of the past....the customer wants instant value without having to search or wait."
Clearwater, FL (PRWEB) March 06, 2014
Greenbee Parking, one of the rapidly growing airport parking services, has announced a wide range of new parking deals that promise to give Clearwater St. Petersburg (PIE) airport users easy and affordable parking. With these new deals in place, travelers can book a secure spot even in the last minute and still expect great rates and excellent service for all their parking needs. Unlike other services, here it does not matter if one is booking the space for a shorter duration or a long term one. There are excellent options designed by experts to specially match every individual parking need without charging a premium for these tailored services. The young provider has already made a name for itself by offering affordable options that slash one's parking budget without having to resort to the typical PIE airport parking coupons.
"Coupons and deals are a thing of the past because the customer today wants instant value without having to search or wait," said Christine Cooper – Marketing Coordinator, Greenbee Parking. "That is why we came up with special deals that will offer valuable services and yet cost just a nominal amount each time. This way one can save a bundle, more so than they could earlier with the PIE airport parking coupons."
St. Petersburg-Clearwater International Airport Parking Information
St. Pete–Clearwater International Airport is located in Tampa Bay and acts as the preferred alternative airport for Tampa International Airport (TPA). The strategic proximity to the city of Clearwater, the central business district of St. Petersburg and the adjacent Tampa Bay Area keeps in busy round the year. It sees over 400,000 passenger enplanements every year and the figure is steadily increasing. It is a preferred choice for low cost carriers and tourists on budgets for both the scenic Tampa area and for the glitzier lights of Las Vegas. The rise in airport activity and increasing business has led the authorities to focus on major renovations and upgrades, one of which includes airport parking. Greenbee Parking is one of the leading private entities here to help expand the parking options with their innovative offers and wide range of deals. They have made it possible for travelers to save around 30-75% of their parking expenses even without PIE airport parking coupons.
The Greenbee Airport Parking Solution
Greenbeeparking.com is the connection between consumers and parking vacancies in close proximity to major airports and seaports. The parking spaces are very affordable because the company has negotiated discounted rates with major hotel chains for the parking spaces that are not currently occupied. Here's how it works.
Greenbee Parking puts the available inventory of parking spaces on their website to be reserved by business and leisure travelers looking for cheap airport parking. This alternative method for finding parking equates to significant savings for the traveler. You can learn more about their offers from (http://youtu.be/RWc3dqhugFA) or via the web at (http://www.greenbeeparking.com).
About Greenbee Parking
Greenbee Parking is the nation's most innovative long term parking company, with a new way of making long term parking affordable. The company is rapidly adding new airports to its network.