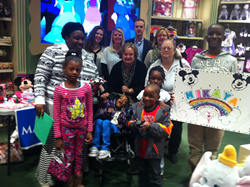 I am humbled at the generosity of our staff.
Memphis TN (PRWEB) March 06, 2014
Data Facts Inc., a nationwide provider of mortgage lending and background screening solutions-has long been a leader in charitable contributions in both national and local communities they serve.
In December 2013, Data Facts Inc. joined together with the Make-A-Wish Foundation to raise funds and grant wishes for 2 children with life threatening illnesses. The staff at Data Facts raised over $5000.00 and Data Facts matched their contribution, totaling $10,000, and the granting of 2 wishes. This month, the first child was granted her wish.
Makiya is a 6-year-old, non-verbal child suffering with Cerebral Palsy. It was her wish to vacation with her family to Disney World. Her wish was granted, Thursday, February 27th at the Disney Store in Memphis, TN. Daphne Large, CEO of Data Facts, Inc. along with several other staff members were there to participate in this magical moment. Makiya and her family which includes, her mother, 2 siblings and a grandmother will spend a week enjoying the spectacle and enchantment of Disney World. "I am humbled at the generosity of our staff and of the Make-A-Wish foundation for being able to bring joy and hope to a child, and their family, during this most difficult time," says Daphne Large, CEO of Data Facts, Inc.
Data Facts focuses its charitable giving in several key areas as well as supports organizations such as American Red Cross, St. Jude, Make a Wish, and more-contributing time, resources and energies to improve and enrich the lives of others.
Data Facts' aim is to be a positive and productive member of their community by not only contributing and dedicating financial resources, but also through the employee volunteerism program. "We're proud of our associates who help make our giving possible. Thanks to them, we're making a difference!" says Daphne. This is just one way Data Facts has brought a positive and lasting change to not only the communities they serve, but also to their diverse staff.
In addition, Data Facts, Inc. will be sponsoring the Dishes for Wishes event that will be held at Felicia Suzanne's restaurant in Memphis, TN. This is another major fundraiser for Make-A Wish MidSouth.
About Data Facts, Inc.
Since 1989, Data Facts has provided information you trust and rely on to make sound lending, hiring, and other business decisions. Data Facts' core divisions include, financial lending solutions for mortgage companies and background screening for employment, volunteers and students. We have a reputation for providing premier lending solutions, which enables our customers to close more loans faster and easier than ever.
Data Facts is one of only 2% of background screening companies that have achieved the gold standard of accreditation by the NAPBS. We provide crucial information for a broad variety of business needs. Our top of the line technology delivers information quickly, accurately and securely.
Data Facts has offices located throughout the United States and serves a wide variety of customers within the United States and Internationally. Data Facts is a 100% woman owned, diversified supplier.