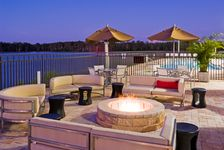 We are humbled by the love and support that we have received in Fort Myers.
Fort Myers, FL (PRWEB) March 10, 2014
Greenbee Parking, a young airport parking firm, has been lauded by its customers using the busy Fort Myers (RSW) where heavy footfalls demand extensive parking services. In recent years, the airport has seen many great upgrades in terms of service and this has been reflected in their parking lot expansion as well. But business has been booming and airport activity has been increasing even more. Greenbee has come into the market to help expand the parking service options here. Once launched, the young service provider quickly made a name for itself with its user friendly options, great money saver deals and easy booking methods. Travelers realized that they can get secure spots all the time and can also save anything between 30-75% off their usual parking expenses. This positive experience has been amply reflected in the latest RSW airport parking reviews.
"We are humbled by the love and support that we have received in Fort Myers," said Christine Cooper – Marketing Coordinator, Greenbee Parking. "The RSW airport parking reviews have strengthened our resolves to come up with even better deals and parking initiatives that will change the way people think of airport parking altogether."
Southwest Florida International Airport Parking Information
Located in the South Fort Myers region of Lee County, the Southwest Florida International Airport keeps very busy round the year. It is a major port of entry into the United States and collectively serves the counties of Fort Myers, Sanibel Island, Cape Coral, Marco and Captiva Island, and some parts of Southwest Florida. A staggering 7,537,745 passengers passed through this airport in 2011 and the business is rising every day. Authorities are focused at positive traveler experiences and to this end they have not only upgraded their services big time but have also welcomed players like Greenbee Parking to join them in this endeavor. The young service provider has taken up this opportunity to design and offer new age parking solutions that offer easy online booking, great parking spots at secure locations and massive savings opportunity every time. Their efforts have rightly found their rewards in the latest RSW airport parking reviews.
The Greenbee Airport Parking Solution
Greenbeeparking.com is the connection between consumers and parking vacancies in close proximity to major airports and seaports. The parking spaces are very affordable because the company has negotiated discounted rates with major hotel chains for the parking spaces that are not currently occupied. Here's how it works.
Greenbee Parking puts the available inventory of parking spaces on their website to be reserved by business and leisure travelers looking for cheap airport parking. This alternative method for finding parking equates to significant savings for the traveler. You can learn more about their offers from (http://youtu.be/RWc3dqhugFA) or via the web at (http://www.greenbeeparking.com).
About Greenbee Parking
Greenbee Parking is the nation's most innovative long term parking company, with a new way of making long term parking affordable. The company is rapidly adding new airports to its network.