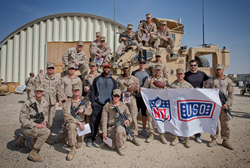 "Being a part of this USO tour has been a very memorable experience for me, seeing everything the men and women in uniform do for us back home," said Garçon. "Talking with the troops and seeing the effects we had on them will live with me forever."
Arlington, VA (PRWEB) March 05, 2014
Twitter Pitch: @b_fields2, @PierreGarcon & @TheJimmyGraham make #USOmoments on @the_USO @NFL tour! #NFLSalute
Brandon Fields of the Miami Dolphins, Pierre Garçon of the Washington Redskins and Jimmy Graham of the New Orleans Saints help the USO make "Every Moment Count" with troops during week-long USO/Armed Forces Entertainment tour to the Middle East. Continuing a time honored USO/NFL tradition, the group is busy visiting troops and sharing special moments with troops downrange. **USO photo link below**
DETAILS:

Five days into their moment-filled USO/NFL tour, the players have visited with and dined alongside hundreds of troops stationed at Camp Leatherneck in Afghanistan and Khalifa Port in the United Arab Emirates.
The NFL teamed up with the USO in 1966 and became the first sports organization to send players to Vietnam and other parts of Asia. Since then, the NFL has worked tirelessly to provide memorable USO moments for 48 consecutive years.
Last year alone, 14 active and former NFL players participated in four USO tours and created memorable moments for more than 21,000 troops and military families stationed in Germany, Spain, Afghanistan, Kyrgyzstan, United Arab of Emirates, Djibouti, Italy, Greece and a ship at sea. Among those players who traveled overseas with the USO last year were Peyton Manning, Vincent Jackson, Austin Collie, Champ Bailey, Von Miller, D'Qwell Jackson, Davin Joseph, Steve Smith, J.J. Watt, Chris Draft, Donnie Edwards, Eric Metcalf, Bill Polian and Matt Light.
The USO kicked off the "Every Moment Counts" campaign on Veterans Day 2013. The campaign invites Americans to join the USO in honoring and creating moments that matter for our nation's troops and their families – like this USO/NFL tour to the Middle East. The campaign centers around the countless every day moments – from family dinners, date nights and the holidays to children's births and bedtime stories – that our troops and their families miss and selflessly sacrifice due to their commitment and service to our country. To learn more visit USOmoments.org.
Brandon Fields has been an integral part of the Dolphins since he was selected by the team in the 2007 NFL Draft. A 2014 NFL Pro Bowl and AP All-Pro second-team selection, he became just the second Miami punter to be named to the Pro Bowl. Fields currently ranks first in Dolphins history in highest gross punting average (46.8) and net punting average (39.3). His career average of 46.8 yards per punt ranks the seven-year veteran third all-time in NFL history. He completed the 2013 season ranked second in both the AFC and the NFL in punting, and first in the AFC and second in the NFL in net punting.
Garçon, a tenacious blocker and explosive receiving threat, signed with the Redskins as an unrestricted free agent in 2012. Garçon became a key component of the Redskins' offense in 2012, leading the team to a 9-1 record in games in which he played, amassing 633 receiving yards in just 10 games. Garçon finished the 2012 season having played in 68 regular-season games with 53 starts, totaling 232 receptions for 3,152 yards and 20 touchdowns for the Colts and Redskins. In 2013, Garçon broke Art Monk's team record for receptions in a season, posting a career high 113 receptions for 1,346 receiving yards and five touchdown grabs. Garçon has appeared in five postseason games, starting all five and posting 30 career postseason receptions for 413 yards with three touchdowns.
Graham was a third-round draft choice of the Saints in 2010. In just four seasons, he has become one of QB Drew Brees' favorite targets. In only 62 games with 36 starts, he has 301 catches for 3,863 yards with 41 touchdowns and has already shattered the club's all-time receiving record for a tight end. Graham, who played four years of basketball and one year of football at the University of Miami (Fla.), has recorded 270 receptions for 3,507 yards with 36 touchdowns the past three seasons, ranking him fourth in the NFL in receiving, first at his position. In 2013, he led the Saints in receiving for the third consecutive season with 86 grabs for 1,215 yards with a club-record and NFL-best 16 touchdowns, leading NFL tight ends in all major statistical categories. Graham was voted all pro this year and selected to play in the 2014 Pro Bowl.
QUOTES:
Attributed to Brandon Fields:
"My experience has been an amazing one, very eye opening and humbling. The best part of this trip is being able to spend time with the troops and interact with them. It has been great to bring a little part of home to them and see them relax and smile as we talked and took pictures. We are truly blessed because of the sacrifices that our men and women of our armed forces are willing to make."
Attributed to Pierre Garçon:
"Being a part of this USO tour has been a very memorable experience for me, seeing everything the men and women in uniform do for us back home. Talking with the troops and seeing the effects we had on them will live with me forever. I'm so happy I came on this trip and now I I've met some friends that I will remember forever. Thank you to the troops for all that you do."
Attributed to Jimmy Graham:
"This experience for me has truly been life-changing. The personal connection I've been able to make is something that will be with me forever. I grew up in a Military home and this just makes me more of a patriot. I have more of an appreciation for the little things we have back home each and every day."
MULTIMEDIA:
USO Tour Photos: http://bit.ly/1drBGPi
About the USO
The USO lifts the spirits of America's troops and their families millions of times each year at hundreds of places worldwide. We provide a touch of home through centers at airports and military bases in the U.S. and abroad, top quality entertainment and innovative programs and services. We also provide critical support to those who need us most, including forward-deployed troops, military families, wounded warriors and families of the fallen. The USO is a private, non-profit organization, not a government agency. Our programs and services are made possible by the American people, support of our corporate partners and the dedication of our volunteers and staff.
In addition to individual donors and corporate sponsors, the USO is supported by President's Circle Partners: American Airlines, AT&T, Clear Channel, The Coca-Cola Company, Grand Canyon University, jcpenney, Jeep, Kangaroo Express, Kroger, Lowe's, Northrop Grumman Corporation, Procter & Gamble and TriWest Healthcare Alliance and Worldwide Strategic Partners: BAE Systems, The Boeing Company, Lockheed Martin, Microsoft Corporation and TKS Telepost Kabel-Service Kaiserslautern GmbH & Co. KG. We are also supported through the United Way and Combined Federal Campaign (CFC-11381). To join us in this patriotic mission, and to learn more about the USO, please visit uso.org.
# # #