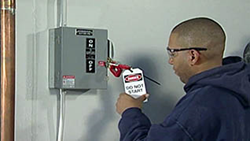 Novi, Michigan (PRWEB) March 06, 2014
Of the 206,471,670 total population in the United States labor force (both native and foreign born, age 25 and older), 16,952,704 speak Spanish (US census Bureau, 2011 American Community Survey). With such a significant number of Spanish speaking workers across various industries, it confirms the need of having up-to-date training available in Spanish. In order to have a safe and healthy work environment each worker, no matter what their native language, must receive the same effective level of training to develop unison of knowledge. Mastery Technologies now offers over 60 Video On Demand courses available in Spanish.
Some of Mastery's most recent titles are now available in Spanish and on the Video On Demand 3 platform, making them accessible on all smart phones, tablets and desktop computers. A sample of these titles includes:
•Bloodborne Pathogens: Always Protect Yourself
•Fire Extinguishers: Ready to Respond
•Lockout/Tagout: Authorized Employees
•Heat Stress: Staying Healthy, Working Safely
•Forklift Operator Safety: Handle with Care
From bloodborne pathogen to forklift safety training Mastery Technologies demonstrates how proper training is a proven tactic to prevent accidents in the workplace. The Occupational Safety and Health Administration (OSHA) requires employers provide training in a language employees understand. By publishing Spanish course titles on the same platform as English titles, Mastery allows all workers in an organization to receive the same training. Providing equal, quality training in Spanish reiterates the commitment Mastery maintains in building amazing organizations.
Mastery Technologies continues updating Spanish versions of course titles to provide the most comprehensive offering of Spanish courses available in its course catalog at Mastery.com. Courses available on the VOD 3 platform offer use on all mobile devices for optimal convenience and understanding. Mastery's VOD courses contain the entire instructional presentation of a training course. All of Mastery's VOD courses include a topical index, displayed on the side of the video when not in full-screen mode. Most VOD courses end with a quiz, including feedback on question answers. Narrated quizzes may be included, as well as additional resources such as downloadable workbooks and job aids.
VOD courses provide large images which appear sharp when viewed in a normal video window. Full screen display sizes are provided, delivering clear audio and sharp video, even when projected or displayed on HDTV screens.
About Mastery Technologies Inc.
Mastery Technologies established the e-learning industry's first Training Content Network. Mastery partners with leading video content providers to co-produce the largest, standardized, workplace e-learning library available. Mastery goes beyond connecting customers with content, by pro-actively supporting both customers and content partners. In this way Mastery fulfills its mission of helping build more successful, effective and amazing organizations.