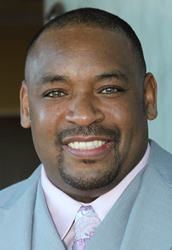 Simply G Media CEO and GJ Reynolds shares, "Derrick Boles has chosen to stand up and be the light to lead others to do the same."
Boise, Idaho (PRWEB) March 12, 2014
Neil Haley, The Total Tutor host of the Simply G Radio show, interviewed Derrick Boles to find out about his overseas basketball career and why he founded Stand Up America.
Boles always wanted to be a basketball player. He grew up in Detroit, Michigan. According to Boles, The playground is the place where you learned to play the game. His goal was to dominate on the playgrounds.
"Your rep would be based on how you play on the court," Boles said. "I knew I was good because I was six foot four inches tall. I was recruited by many schools."
In this interview, Boles said he had no idea what the process was to go to college. He was the first generation in his family to have the change to attend a university. He would get calls from many different schools, yet he had no idea about how the division one process worked.
Boles ended up attending Idaho State University because the assistant coach from Michigan State left to become the head coach of Idaho State and recruited him along. He said he had great experience playing for Idaho State and, after a great college career, he received offers to play basketball overseas.
After his pro career of playing outside of the United States ended, Boles ended up becoming a college basketball coach. He wanted a larger platform to help people, so he founded his our leadership firm and began Stand Up America.
Boles is the founder and CEO of a nationally recognized leadership firm L.E.A.D.E.R.H.I.P.1 LLC. His experience and expertise has landed him high profile clients both on the national and international scale. His "Hearts and Minds" approach and in-depth knowledge of team dynamics and organizational behavior has been tremendous resource for him to build a team of national experts.
Stand Up America started with the idea to have celebrities ride a stand up bike across America. Celebrities continued falling out left and right to do the race. So Boles had to stand up and do the race alone. That is how the stand up name got started.
Simply G Media CEO and ViSalus 5 Star Ambassador GJ Reynolds shares, "Derrick Boles has chosen to stand up and be the light to lead others to do the same. He exemplifies what it means to stand up and live his moral compass to challenge others to do the same! I love what Derrick is all about!"
The overall mission of Stand Up America is to start the conversation and realign our moral compass by building leaders for the future and challenging people to stand up and to be more engaged in finding solutions the social ills.
For more information on Derrick's foundation you can go to http://www.stand-upamerica.com. You can listen to the interview now by going to http://www.simplygmedia.com.