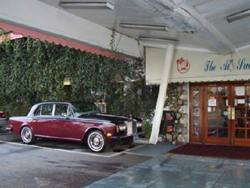 Our focus is to come up with the best of offers for all our customers.
Los Angeles, CA (PRWEB) March 12, 2014
Greenbee Parking, a rising airport parking service, has just announced a series of new parking deals for their customers using the busy Los Angeles (LAX) airport. Now there will be a lot more options to choose from when parking their vehicles. In the latest upgrade to their website, the young service provider announced that their services for LAX passengers have been expanded and have also said that there will be more changes to come in the next few months. Significant among these are last minute great deals which allow one to book a parking space without paying a premium for a late/last minute booking. Their affordable LAX long term airport parking rates ensure that one enjoy maximum savings each time.
"Our focus is to come up with the best of offers for all our customers and then try to improve on them," said Christine Cooper – Marketing Coordinator, Greenbee Parking. "Two things are of primary importance here, easy to reach locations and affordable LAX long term airport parking rates which will enable travelers to enjoy significant savings. Our offers are constantly upgraded and the same is reflected on our website from time to time."
Los Angeles Airport Parking Information
Los Angeles International Airport is one of the busiest airports in the world and one of the major airports in the United States. Known for its excellent facilities and world class service standards, LAX sees a volume of over one hundred flights operating on a weekly basis here. A major portion of this huge passenger volume is for Los Angeles, one of the most popular tourist destinations in the world and major business hub as well. Naturally, the authorities are constantly focused at creating better services to improve on their already excellent facilities.
One area where they have private players making a definite contribution is the airport parking which welcomes every additional support from public as well as well private players. Young companies like Greenbee Parking have stormed into the scene with their affordable LAX long term airport parking rates and innovative options. In a short time, they have established themselves as the preferred choice for secure parking and significant savings.
The Greenbee Airport Parking Solution
Greenbeeparking.com is the connection between consumers and parking vacancies in close proximity to major airports and seaports. The parking spaces are very affordable because the company has negotiated discounted rates with major hotel chains for the parking spaces that are not currently occupied. Here's how it works.
Greenbee Parking puts the available inventory of parking spaces on their website to be reserved by business and leisure travelers looking for cheap airport parking. This alternative method for finding parking equates to significant savings for the traveler. You can learn more about their offers from (http://youtu.be/RWc3dqhugFA) or via the web at (http://www.greenbeeparking.com).
About Greenbee Parking
Greenbee Parking is the nation's most innovative long term parking company, with a new way of making long term parking affordable. The company is rapidly adding new airports to its network.