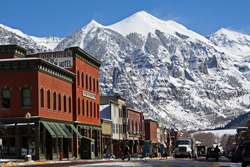 Telluride, CO (PRWEB) March 07, 2014
To most people, spring in Telluride, Colorado means warm weather, blue skies, and skiing groomers with family and friends. Even those avid skiers in search of fresh powder lines have the chance to get their fix as Telluride historically averages more than 25 inches of snowfall in March. While skiing at the world class Telluride Ski Resort is an obvious reason to visit the charming resort town, top notch musical talent is scheduled to perform in March attracting last minute vacation planners to the box canyon.
On March 6th Telluride welcomes reggae powerhouse The Wailers live at the Sheridan Opera House. They are slated to perform their pivotal album Legend in its entirety to celebrate the 30th anniversary of its release date. Oregon based experimental indie folk band Blitzen Trapper is bringing their sound to Telluride's newest music venue, Club Red on March 7th. Club Red is a sleek, intimate, lounge-type venue featuring red ambient lighting, elevated seating, plush couches, and exclusive VIP sections.
Thursday, March 13th marks the first annual Telluride Tribute Festival presented by the Sheridan Arts Foundation and the Cornerhouse Grille. This inaugural event will feature three nights of music replicating the sound of some of rock and roll's best bands. Zozo, the ultimate Led Zeppelin tribute band is set to kick off the festival. No Duh, a No Doubt tribute band and 40 Oz. to Freedom, a Sublime tribute band will perform on March 14th. The final night of music will take place on March 15 featuring the sounds of Queen by Gary Mullen and the Works.
On Monday, March 17th, The Travelin' McCourey's and Billy Nershi of The String Cheese Incident are set to perform their traditional bluegrass sound at the Sheridan Opera House. Just a few nights later on March 20th Reggae legends Steel Pulse take the Telluride Conference Center Stage.
American hip/hop and funk musician Michael Franti is set to play two nights at the Sheridan Opera House on Sunday, March 23rd and Monday March 24th.
The Telluride Ski Resort will close out the festivities the last weekend in March with their new event dubbed the 2014 Mountain Town Get Down. On March 28th local duo Lily von Shtupp will perform at Tomboy Tavern, one of the premier Après ski spots. On Saturday March 29th eight piece roots reggae funk band See-I and rhythm roots/ska band John Brown's Body will play free shows at the Heritage Plaza in the core of Mountain Village. And finally on Sunday March 30th the Telluride Ski Resort will host a Bikini Slalom and a Luau with local reggae band Bredren.
Aside from music and skiing, there are tons of classes, activities, and events to keep vacationers occupied while visiting Telluride. Check out Telluride.com for the most comprehensive source of information about the area, including a current list of festivals & events, information on 100's of things to do in the area, and descriptions of booking options and ski and stay packages for more than 350 hotel rooms, condos, and homes available to rent. Download the new Telluride.com application for free and have all the information you need on Telluride at the tip of your fingertips.
Never been to Telluride? The town was founded in 1858 after gold and silver were discovered, Butch Cassidy robbed his first bank here, Nikola Tesla selected the site to build the world's first power plant here, hippies re-settled these lands in the 60's, skiing arrived in the 70's, real estate agents invaded in the 80's, Tom Cruise, Oprah Winfrey and Oliver Stone vacation here, and Tim McGraw even wrote a song about it. Check out Telluride.com and plan your trip to paradise today.