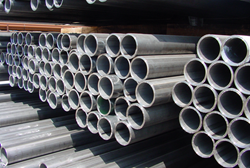 Used pipe doesn't last, so instead of buying some and having to redo it all later, we decided to do it right the first time.
(PRWEB) March 11, 2014
Buying pipe fencing isn't easy these days. Any Internet search for fencing returns tens of thousands of hits – most of them claim they have the strongest, longest-lasting and cheapest pipe in the nation. To make matters worse, they offer a dizzying array of choices. You can buy used, secondary and reject pipe – those offering it insist that it is every bit as good as new pipe. Other confusing labels include 'new seconds' and 'new reject.' The big question, though, is which kind of fence will get the job done?
New Pipe Versus Used
Used pipe is a bit cheaper, freely available and sometimes looks almost as good as new pipe -- at first glance. But don't inspect it too closely. That will reveal rust, holes, pitting, flaking and plenty of wear.
Pick it up and compare the weight to the same length of new pipe. Why is it lighter? Because almost all of it comes from oilfields where it is no longer considered fit for use. The bulk of it comes from stripper wells in Oklahoma, Kansas and Texas which pump vast amounts of saltwater through these pipes on a daily basis, along with acid. Sucker rods are forced up and down the pipe, constantly wearing them away from the inside. Even if they look good, used piping often has poor wall thickness
"I bought some old pipe from an oil well and it was covered in pit spots, and had some thin, weakened areas," said Justin Williams, manager at Jones Beefmasters, a ranch in Tennessee that maintains about 300 head of cattle. "Used pipe doesn't last, so instead of buying some and having to redo it all later, we decided to do it right the first time."
Used pipe, then, has been through the ringer. It just isn't going to last a lifetime.
"There isn't that much of a difference in price between new and used pipe, but you gain a lot more for your money in terms of longevity and value," said Williams. "I buy prefabricated continuous fence, which goes up really fast."
Justin McKee, a well-known announcer for the Professional Bull Riders television circuit and owner of the McKee Ranch in Oklahoma, fenced his property with used pipe a decade ago. After a few years, however, it began to disintegrate.
"Cattle would find a weak spot, and tear into it," said McKee. "By trying to save a dollar, I ended up having to put in a whole new fence."
McKee, who keeps 400 head of horn cows (most of them bucking breed), learned from his mistake and for his replacement fence, he turned to an expert.
"We needed something that would last a lifetime so we approached GoBob Pipe (a fence and farm equipment supplier based in Mounds, OK)," said McKee. "Tough cattle need tough fences."
His supplier helped him select the right kind of pipe to safeguard his herd. He used, for example, four and a half inch pipe for quarter posts and two and a half inch pipe for brace posts.
"The new set up is so much stronger than what I had before and it will last a lifetime," said McKee. "My advice to others would be not to buy sub-standard fence. I won't ever put in used pipe again."
New or Not so New
Unfortunately, not all new pipe is created equal. Vendors vary widely in their definitions. Within the new category, there can be:
Good: Good pipe is normally a dead length (vs. random lengths), has no holes, no un-welded seams and is straight.
Secondary or Seconds: Secondary pipe is like good pipe but is of random length or has some minor cosmetic flaw.
Reject: Reject pipe is where the pipe could have one more defects such as un-welded seams, bows and varying wall thicknesses. Since every mill has their own criteria for what they reject, the quality will vary from mill to mill.
"Seconds and reject are usually a good buy for fencing pipe but it is the hardest to find," explains Bob Studebaker, owner of GoBob Pipe and Steel.
The reason? It takes a mill messing up on an order – perhaps cutting it to the wrong specification – to send a decent amount of seconds and reject material onto the market. More than likely, if seconds are available, they won't be quite what you are looking for in terms of size or length. Those seeking to profit from the secondary market, therefore, are advised to not be too attached to the popular pipe sizes as they are always in high demand. Most ranchers, for instance, use a lot of 2 ½" inch pipe. What you are more likely to find in the seconds category is 2 3/8 inch or 2 ¼" which will probably do the job just as well.
Wall thickness is another crucial factor in the fence selection process. It determines the price per foot, as well as what kind of function the pipe can perform. Some users are tempted to skimp on thickness to save a few dollars. Big mistake! A cattle fence better be strong enough to do the job. The best advice is to find a knowledgeable supplier who knows pipe inside out, can tell you the wall thickness of any pipe available and advise you correctly on what size should be used where.
"Wall thickness depends on what you are building – posts, for example, should be of large diameter pipe with greater thickness," said Williams. "I typically ask my GoBob contact for sizing advice as they can tell you how many foot pounds each size of pipe can stand. I was going to buy more expensive pipe to be safe but my supplier recommended a slightly smaller size which was $70 cheaper."
GoBob Pipe and Steel offers a complete selection of hay trailers, flatbeds, pipe and fencing, as well as feeders – all designed to provide farmers with the best quality product that helps them do their jobs efficiently and cost-effectively. The company can be reached at 918-827-4500 or visit http://www.gobobpipe.com.