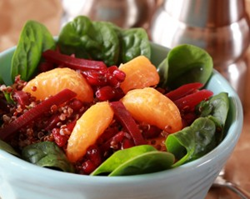 "Oatmeal is another good whole-grain choice, but make sure the label says gluten-free to assure that the oats are grown and processed under gluten-free conditions," says Fenster.
(PRWEB) March 10, 2014
Eating nutritious food is important for people on a gluten-free diet so they can maintain good health. In celebration of March as National Nutrition Month, Carol Fenster, author of Gluten-Free 101: The Essential Beginner's Guide to Easy Gluten-Free Cooking, offers tips for following a healthy diet while still avoiding gluten.
"Knowing how to make nutritious, gluten-free choices is important," says Fenster, author of 11 gluten-free cookbooks, "because not all gluten-free foods supply the nutrients our bodies need for good health." Fenster favors the Mediterranean diet because it emphasizes fresh fruits and vegetables, fish, nuts, legumes, and fish—while discouraging highly-processed foods. But some of the foods recommended on the Mediterranean diet can still be problematic for gluten-free people if not selected wisely, so here is Fenster's advice.
Eat a Rainbow of Fruits and Vegetables, but Beware of Sauces, Thickeners, and Toppings.
All fruits and vegetables are healthy in their own way but try to maximize nutrient intake with a wide variety of brightly-hued veggies such as purple cabbage and eggplant, red bell peppers and tomatoes, orange carrots and squash, and green broccoli or kale. Sauces on vegetables are especially suspicious because— unless they are reduced (boiled down to a concentrated, thicker version)— they must be thickened and that thickener is usually gluten-containing wheat. Instead, potato starch, cornstarch, or sweet rice flour are excellent thickeners for sauces.
Make sure toppings on vegetables—such as crispy breadcrumbs―are gluten-free. Vegetable soups might be thickened with wheat flour. Brightly-hued fruits such as berries, cherries, mango, and kiwi are excellent choices for dessert but make sure any dessert sauces, puddings, or pastries in which they're used are also gluten-free.
Opt for Gluten-Free Whole Grains.
Eating whole grains is especially challenging for gluten-free people because the most common choices are wheat-based, such as whole-wheat cereals. Rather than a highly-processed breakfast cereal based on rice—a common, gluten-free alternative—cook a batch of gluten-free whole grains such as amaranth, buckwheat, millet, quinoa, or sorghum ahead of time and keep them in the fridge. When heated and topped with honey and cinnamon, these pre-cooked grains make a quick, hearty breakfast with important nutrients for good health. Or, make a whole grain salad such as Red Quinoa Salad for a hearty, vegetarian main entree; add cooked shrimp for a more filling dish.
"Oatmeal is another good whole-grain choice, but make sure the label says gluten-free to assure that the oats are grown and processed under gluten-free conditions," says Fenster. The Whole Grains Council recommends three to five daily servings of whole grains, but a serving of cooked whole grains is only one-half cup so most Americans can easily get more than that at any one meal.
Load Up on Beans and Legumes.
"Beans and legumes are among the healthiest foods on earth and especially good for gluten-free people," says Fenster, "because of their fiber, B-vitamins, and protein." They are also low in fat and sodium and very inexpensive. Conveniently available in cans, they only need to be rinsed thoroughly to remove excess sodium and then they're ready to use in soups, stews, casseroles, side dishes…or mashed into purees and used in baking. Fenster co-authored a free, downloadable booklet with dietitian Shelley Case called Pulses in the Gluten-Free Diet on how to use beans and legumes in gluten-free baking and cooking.
Choose Baked Goods Wisely or Be the Baker.
Commercial bakery goods are discouraged on the Mediterranean diet, but breads are one of the most-missed items for gluten-free people. So, it's tempting to over-indulge when one finds gluten-free versions in stores. However, cautions Fenster, many store-bought bakery items contain highly-processed flours such as white rice flour and have high sugar, fat, and sodium contents with low amounts of protein and fiber.
Instead, seek out whole-grain gluten-free breads in stores or make homemade versions with gluten-free bread recipes and add healthier gluten-free flours such as amaranth, buckwheat, quinoa, sorghum, and teff. Home-baking gives greater control over the fat, sugar, and sodium content in food, says Fenster. Be sure to read the labels of all ingredients to make sure they are gluten-free and measure correctly for best results, using Fenster's video, How to Measure Flour, as a guide.
"Following the Mediterranean diet while avoiding gluten can be extremely healthy," says Fenster. "It all depends on the choices we make, so always opt for the most nutritious, safe choice for maximum health."