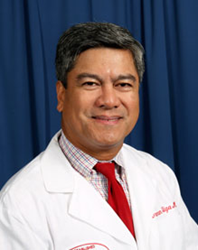 Patients resist having an amputation for fear that a prosthetic leg will limit them. Actually, the injured or diseased limb often causes significant limitations. The prosthesis will enable them to return to everyday activities, including sports.
Wheaton, IL (PRWEB) March 06, 2014
Advancements in the field of prosthetics have improved the function, mobility, and quality of life for those who have experienced an amputation.
The Medical Director of the Marianjoy Rehabilitation Hospital orthopedic program, Dr. Norman Aliga, along with Marianjoy physical therapist, Natalie Look, and prosthetist, Jason Wening of Scheck & Siress, will offer a free presentation for those who have had, or are considering, an amputation. The program will be held March 11, 2014, at 6:30 p.m. on the Wheaton campus. Topics to be discussed include:

The causes of amputations
What to expect following an amputation
The importance of selection and proper fit of a prosthesis
Why rehabilitation with a prosthesis is important
Recognizing skin issues and the need for ongoing medical care
"Many patients resist having an amputation for fear that a prosthetic leg would limit their life. Actually, the reverse is usually true. The injured or diseased limb often causes significant physical, emotional, and social limitations, whereas a prosthesis would enable them to return to everyday activities, including sports," explains Dr. Aliga.
Amputation impacts 185,000 individuals in the U.S. annually. People can lose all or part of an arm or leg for a number of reasons:
Problems with blood circulation due to atherosclerosis or diabetes
Severe injuries resulting from accidents or military combat
Birth defects
Infections or skin ulcers that do not heal
After patients receive a prosthesis, Dr. Aliga often recommends outpatient therapy to help them use the device safely to avoid injury. "Marianjoy's outpatient therapists have the experience needed to help individuals increase strength, learn to wear the prosthetic device properly, and maintain skin integrity," Dr. Aliga added. It's also important that following an amputation, patients return to the clinic periodically for a thorough evaluation. This ongoing process is necessary to achieve better outcomes with a well-fitting, functional prosthesis.
Dr. Aliga is the Medical Director at Marianjoy's Prosthetic and Orthotic Center, which, in partnership with the certified prosthetists and orthotists from Scheck & Siress, offers customized artificial limbs and braces for adults and children.
About Marianjoy Rehabilitation Hospital:
Marianjoy Rehabilitation Hospital is a nonprofit teaching hospital in Wheaton, Illinois, dedicated to the delivery of Physical Medicine and Rehabilitation programs, including stroke, neuromuscular, orthopedic, brain injury, spinal cord injury, and pediatrics. Marianjoy's state-of-the-art, 128-private-room hospital is designed to provide rehabilitative care in a naturally holistic setting. Founded in 1972, Marianjoy Rehabilitation Hospital maintains an extensive network of inpatient, subacute, and outpatient sites, as well as physician clinics, throughout the Chicago area. Marianjoy is a member of Wheaton Franciscan Healthcare. To learn more, visit http://www.marianjoy.org.