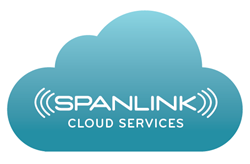 I'm thrilled to be launching Spanlink Cloud Services in an effort to remove barriers for our customers and empower them with the latest in Cisco technology, said Eric LeBow, CEO, Spanlink.
Minneapolis (PRWEB) March 06, 2014
Spanlink Communications, a leading managed services provider for Cisco collaboration and contact center solutions, today announced Spanlink Cloud Services, a comprehensive suite of Cisco-powered hosted services that span the entire Cisco Collaboration portfolio. Spanlink Cloud Services provides customers affordable access to the latest in business voice/collaboration, HD video and contact center technologies, all in a predictable monthly subscription.
"Our customers and prospects understand the value that collaboration and productivity tools bring to their business, yet the large capital expenditures and the cost of maintaining the solution in-house can often halt the deployment of these tools," said Eric LeBow, CEO, Spanlink Communications. "As a CEO, I can empathize with this. That's why I'm thrilled to be launching Spanlink Cloud Services in an effort to remove barriers for our customers and empower them with the latest in Cisco technology, bundled up into an affordable, monthly subscription."
Spanlink's Cloud Services include:
Unified Communications as a Service (UCaaS), including:

Voice over IP
Voice Messaging
Instant Messaging / Chat
Cisco Jabber
Audio and Web conferencing services
Desktop video and mobility solutions
Contact Center as a Service (CCaaS)

Cisco Contact Center Enterprise functionality, including the Finesse or CTIOS desktop, advanced call control capabilities and enterprise reporting
ACD functionality built upon a fully redundant call processing platform
Secure and flexible customer service
Multi-channel capabilities, enabling customers to interact through the communication channel of their choice
Expanded contact center feature capabilities, including speech analytics, intelligent call routing and workforce optimization tools
Ability to scale seasonal agent capacity as needed
TelePresence as a Service (TPaaS)

Access HD business video capabilities from SIP- and H.323-compliant video endpoints
Secure, multipoint functionality allows 3+ parties to participate in video conference
In addition, Spanlink ensures quality of service for its customers through its award-winning managed services platform, OnGuard. OnGuard helps manage and maintain all Spanlink cloud environments, safeguarding availability and performance of business communications solutions, and enabling Spanlink to easily adhere to stringent service level agreements.
"The migration of business-critical applications to the cloud requires business-class service reliability," added LeBow. "Having already saved our clients more than a million minutes of downtime to date, OnGuard offers a level of confidence that no other Cisco cloud provider can match. OnGuard was built specifically for Cisco collaboration solutions, and businesses both large and mid-sized rely on it to ensure their business communications solutions are highly available and perform as designed."
Spanlink Cloud Services are available today. For more information please call 763-971-2000 or visit http://www.spanlink.com.
About Spanlink Communications, Inc.
Spanlink Communications is an award-winning IT service management company dedicated to helping its customers minimize risk and improve availability and performance of their business communications solutions. Founded in 1988, Spanlink helps companies get the most out of their Cisco investments by advising, deploying, integrating and providing management services that are tailored to their specific business goals. OnGuard, Spanlink's managed services platform, ensures that our customer's business-critical Cisco collaboration, contact center, data center and network assets stay up and running at optimal performance. Spanlink's services approach enables a true partnership with customers, and empowers IT operations to leverage Spanlink's experts as an extension of their own teams. Spanlink is a Master-certified Cisco partner serving mid-size businesses and large enterprises nationally and internationally. Find news and information at http://www.spanlink.com.