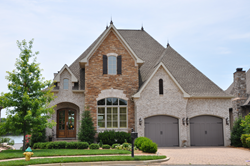 Our standards are every bit as high as the homeowners we work with ... we are committed to helping each family move into a home that they can enjoy for years to come
Nashville, TN (PRWEB) March 06, 2014
Building a new, custom home is an exciting undertaking, but it can be a little stressful if a homeowner doesn't partner with the right builder. Brothers Steve and J.R. Ernst of Arthur Rutenberg Homes want to ensure that Nashville residents know exactly what they'll be getting before construction begins.
"Asking a potential builder a series of questions before designing your home will ensure you're able to pick the company that best suits your needs," said Steve Ernst, president of Arthur Rutenberg Homes. "The right builder will meet all of your requirements and ensure you get your dream home."
The Ernst brothers, based in Hendersonville, Tenn., have 20 years of home building experience in the area. They purchased the Arthur Rutenberg Homes franchise in 2013, giving them the backing and experience of a nationally-known, 60-year-old home building expert. The franchise offers plan collections that include more than 80 award-winning home designs ranging from 2,000 to 7,000 square feet, and the Ernst brothers' hometown knowledge allows them to offer personalized service to the Nashville community. They recommend area homeowners ask a few questions before selecting the right custom homebuilder, such as the following:
1. How well do you know the local area? A builder's level of experience in the area goes a long way toward helping homeowners determine if they are a good fit. Since the Ernst brothers have been building in Middle Tennessee for more than 20 years, they know all the local codes and permits necessary to move each project along as quickly as possible. They also know the best local suppliers to help homeowners get the best deals on quality building materials and supplies.
2. Do you and your subcontractors have all the necessary licenses, bond, and insurance, and a written warranty? The last thing anyone wants is for their home project to get hung up due to liability or other legal issues, or a worker injury. Ask the builder to provide copies of their current license and bond, as well as proof that they are insured against any unexpected injuries, accidents, or damage. In addition, homeowners should protect themselves by finding out whether a warranty will cover any mistakes on the part of the builder that need to be repaired after they move in. There's also a trend for homebuilders to use subcontractors that don't carry workers' compensation insurance, so be sure the builder is committed to using insured subcontractors.
3. What is your timeline? Homeowners can ask about typical completion of a home project, from the design stages to the final walkthrough. See if the builder can provide an estimated start and completion date, which includes allowances for inclement weather and other unforeseen circumstances. Arthur Rutenberg Homes is able to project how many square feet per day they can build, so it's worthwhile to ask if a builder can provide a similar schedule. Be sure there is a way for the builder to regularly update progress, and that adjustments can be made during the process.
4. What is your commitment to quality? Homeowners want their custom home to be up to their personal standards, but builders should also have high standards. Discuss such things as whether the home should be built using green materials, how they will ensure the home is waterproofed and protected from radon and other toxic chemicals, and how windows and doors will be sealed and the home will be ventilated. Be sure to pick a builder that is willing to meet the right level of quality, such as Arthur Rutenberg Homes, which offers a 10-year structural warranty to new homeowners.
"Our standards are every bit as high as the homeowners we work with," said Ernst. "We know they're looking for quality homes, a wide variety of floor plans, structural options, and interiors, and we are committed to helping each family move into a home that they can enjoy for years to come."
About Arthur Rutenberg Homes
Arthur Rutenberg Homes, a respected name in homebuilding since 1953, is one of the largest independently owned and operated homebuilding companies in the nation. With a franchised homebuilder expansion in Tennessee, Arthur Rutenberg Homes builds in prestigious Nashville communities and on owner's individual lots. The Ernst Brothers have 20 years of home building experience in the area and offer plan collections that include more than 80 award-winning home designs ranging from 2,000 to 7,000 square feet. They offer customized plans to suit any lifestyle and optimize views to that special piece of property. For more information, call 615-822-1727 or visit http://www.arthurrutenberghomes.com/nashville.
###