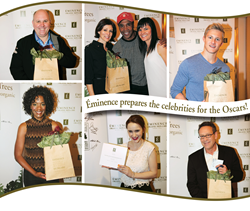 Éminence's #Tweet4Trees campaign planted a tree for every tweet and retweet using the hashtag during the GBK pre-Oscars Gift Lounge.
Vancouver, BC (PRWEB) March 06, 2014
Éminence Organic Skin Care created their own Hollywood buzz leading up to the Oscars this past weekend. On February 28th and March 1st in Los Angeles, the stars gathered at the GBK exclusive pre-Oscar Gift Lounge to participate in Éminence's engaging #Tweet4Trees social media campaign, which planted a tree for every tweet and retweet with the hashtag. Plus, they were the first to experience the new Arctic Berry Illuminating Collection which launched to the public on March 1st.
The #Tweet4Trees Twitter campaign for Éminence's Forests for the Future initiative was a big hit with celebrity attendees as many expressed admiration for Éminence's philanthropic efforts. As a result of the excitement and support from Hollywood and their fans for the campaign over the two-day event, Éminence is thrilled to announce that they will plant 1,070 trees in total! This wonderful achievement is in support of their commitment to planting a tree for every retail product sold.
Éminence Organic Skin Care products received their own accolades at the event as stars received the new Arctic Berry Illuminating Collection and more. Éminence was excited to gift celebrities from Oscar winning and Oscar nominated movies including: Kelsey Scott and Rob Steinberg from 12 Years a Slave, James Dumont from Dallas Buyers Club, Katherine Cas from Wolf of Wall Street and Emily Bergl from Blue Jasmine.
Actress Rachel Brosnahan, known for her role in House of Cards, Beautiful Creatures, Unborn, A New York Heartbeat and more, fell for the new Arctic Berry Illuminating Collection instantly. Rachel was keen to share her love for natural and organic skin care saying, "Éminence is my favorite skin care line!" Éminence was also honored to have gifted famous names such as boxing legend Sugar Ray Leonard, The Hunger Games star Alexander Ludwig, and Sex and the City actor Gilles Marini.
This was the 7th year Éminence has been a part of the Oscars and celebrities continued to be excited by the unique scents, textures and results of their natural, organic and Biodynamic® skin care products. Éminence is grateful to all the stars who also helped them plant trees in developing countries with their #Tweet4Trees Forests for the Future campaign.
About Éminence Organic Skin Care
Éminence Organic Skin Care is the award-winning provider of the most effective skin care products in the natural and organic skin care industry. With more than half a century of herbal craftsmanship and innovation, and several centuries of unsurpassed skin rejuvenation techniques unique to Hungary, they offer the highest quality natural skin care to leading salons, spas and their clients in more than 25 countries around the world. Éminence's superior spa treatments and products rely on a unique combination of hand-picked fresh ingredients. Vitamins are captured in their all-natural fresh base, offering dramatic results as actual seeds, pulps and peels begin the regenerative and healing powers that only nature can produce. Voted "Favorite Skin Care Line" by spa professionals and seen as Hollywood's skin care secret, with devoted fans such as Madonna, Jessica Biel, Katherine Heigl, Jena Malone and Mark Ruffalo, Éminence is renowned for premium organic and Biodynamic® skin care that enhances your well-being naturally. A commitment to the environment is integral to their business practices and they strive to create products that are good for the earth as well as good for the skin. By enlisting wind and solar power energy in the making of products, recyclable packaging with vegetable-based inks, geothermal heating in the laboratory and an eco-alternative design of the head office, Éminence does all that they can to combat climate change. Starting in the fall of 2012, the Forests for the Future initiative brought that commitment to the environment to a whole new level by planting a tree for every product sold. Visit http://www.eminenceorganics.com for more information.