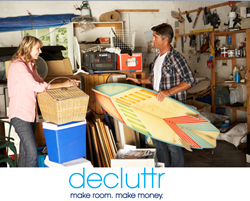 It's surprisingly simple: scan it, send it, spend it.
Atlanta, GA (PRWEB) March 06, 2014
Newly launched online service Decluttr is providing families with a simple and effective solution to keep their home organized and add to their savings. Get rid of unwanted DVDs, CDs and video games that are just taking up space in the basement or attic with Decluttr's mobile app or website.
The service focuses on a one-box selling platform: consumers sell their items without the hassle of managing multiple transactions and multiple shipments.
A recent survey conducted by the Huffington Post revealed that 84% of stressed Americans say they worry their home isn't clean or organized enough. While Decluttr can't help out with laundry, it does make tidying up boxes of DVDs, CDs and video games that are collecting dust a breeze, turning the phrase 'this may be worth something someday' into 'this is worth something today.'
Currently, selling unwanted media through existing online platforms can be a hassle due to the repetitive steps of listing, selling, packing and shipping...for each DVD. In contrast, Decluttr is a single transaction, free shipping and one payment. It's really simple and while the idea may be new to Americans, Decluttr is actually a start up with a history. The new company is owned by one of the fastest-growing technology businesses in the United Kingdom, Entertainment Magpie (musicMagpie.co.uk), which has successfully paid millions of dollars to people selling goods.
According to Brett E. Lauter, president, Decluttr, busy families would look to sell excess stuff in their homes were it not for the hassle of online selling and its multiple transactions, fees and subjective pricing.
"This service is for those who are too busy, don't want to add to a landfill (all discs received that can't be resold are recycled) and/or want to make a little money," said Lauter. "Our customers go to one site, list all their items and receive a fair value through an objective, real-time pricing system and print out their free shipping label. It's surprisingly simple: scan it, send it, spend it."
The need for this type of service is greater than ever. According to a recent study, 62% of respondents ranked the ability to sell media in one place/at one time the most important feature of this type of service while 66% said the ability to get cash for different items through one website/account is equally important.
Consumers are always looking for ways to make their lives easier, help them get rid of unwanted goods and earn money. Decluttr is the answer.
How it Works: Scan It, Send It, Spend It!
It's a simple, efficient, "one-box" process:
•Enter or scan the barcode to get an instant value;
•Send selected items using free shipping service labels; and
•Receive a check in the mail
One Box – Whole Home: According to Lauter, the company's vision is to evolve to accept a range of items that may include designer clothes, electronics and more.
"We want to make 'Decluttr' a verb in the online realm similar to how Google has become synonymous with search," said Lauter. "As in, I never watch these DVDs anymore...I should Decluttr them."
As in the UK, the magic is in the behind-the-scenes infrastructure. Decluttr has built a unique structure capable of accepting and refurbishing enormous amounts of products from millions of individuals. "For now, we are focusing on media because we've learned that it's one of the most commonly collected items that people are looking to sell," continues Lauter.
For more information: visit, http://www.Decluttr.com or visit us on Facebook at http://www.facebook.com/decluttr.
About Decluttr
Decluttr is an easy-to-use online service for people looking to earn cash by selling used DVDs, CDs and video games that are taking up space in their homes. Decluttr is owned by Entertainment Magpie (http://www.musicmagpie.co.uk), a UK-based multi-category recommerce business enabling consumers to go online and sell a wide range of used media. Decluttr marks the brand's first U.S. venture. For more information, visit http://www.decluttr.com.