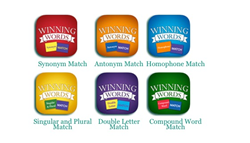 On February 24, 2014 Winning Words Match games were featured on eSchool News as 'App of the Week'.
(PRWEB) March 10, 2014
Winning Words LLC announced today that it has recently released six apps to the iTunes app store for use on the Apple iPad. Winning Words founder and app creator Barri Lynn Baltic is no stranger to building vocabulary skills. As a classroom teacher in Central Islip, NY, Ms. Baltic saw the need for this kind of practice, especially when it is accompanied by a fun experience for the student. "My goal was to make my match games modern by using technology," says Ms. Baltic, who is promoting the games via Twitter, Facebook, LinkedIn and a custom website (WinningWordsApps.com).
For now, the apps are free in the iTunes App Store. "I wanted to encourage people to play the games for fun and help me learn what works and what doesn't," says Ms. Baltic. "For now, this is my contribution to the world of education." Ms. Baltic notes that besides many individual downloads in recent weeks, schools have downloaded the apps by the thousands for use on the school's iPads. "It is very gratifying to get such a positive response from other teachers, since the idea came from games that I created for my students." On Monday February 24, 2014 Ms. Baltic's Winning Words Match games were featured on eSchool News as 'App of the Week'.
The link to eSchool News can be found here: http://www.eschoolnews.com/2014/02/24/app-week-winning-words-match-games/. Four of the six Winning Words Match games were featured in the 200 top grossing apps in the App Store, having recently amassed 30,000 downloads.
Ms. Baltic selected eReadia LLC to build the apps for her. Finding a developer willing to work with a newcomer to the field was a challenge, but she found the company through a recommendation from a friend. eReadia LLC is the premier mobile publishing solution for businesses and organizations.
Each game accommodates up to four players and there are three levels of play. Playing these games increases reading, vocabulary, and stimulates memory.
Synonym Match, Antonym Match, Singular and Plural Match, Compound Word Match, Double Letter Match, and Homophone Match from Winning Words LLC can be found in the iTunes App Store.
About Winning Words LLC
Winning Words evolved from Ms. Baltic's successful activities that she developed while teaching to have children enjoy learning. She expanded the activities so school age children as well as adults could enjoy them.