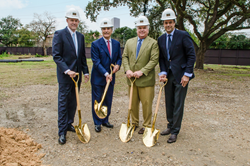 Houston, TX (PRWEB) March 07, 2014
The Interfin Companies officially broke ground on the luxury high-rise condominium, Belfiore located in the vibrant Uptown area of Houston on Friday, February 28th at 11:00 a.m. The morning started with a blessing from Most Reverend Joseph A. Fiorenza Archbishop Emeritus of Galveston-Houston followed by the groundbreaking conducted by Scott Schwinger, Giorgio Borlenghi, Joe Hudson and Joseph Lopez donning hard hats with engraved shovels. Guests witnessed and toasted the first steps toward building the 26-story high rise.
Inter-Pier LLC, a joint venture led by Giorgio Borlenghi, between The Interfin Companies and Pierpoint Capital together with The McNair Group and Hudson Brothers Real Estate Limited Partnership announced plans for the high rise in June 2013.
"Homeowners will soon have a luxury Galleria-area high-rise option combined with the space and square footage you would find in a freestanding home," said Giorgio Borlenghi, President of The Interfin Companies. "Belfiore is the culmination of more than 30 years of listening to our homeowners coupled with our dedication to quality, luxury and refinement to create a building unlike any other in Houston," says Giorgio Borlenghi.
Belfiore will sit on approximately 2 acres of land in Uptown at the southeast corner of Post Oak Lane and S. Wynden Drive, between San Felipe and Woodway. The exclusive 46 residences, including two penthouses, will boast views of both downtown and Tanglewood. Two homes per floor will allow approximately 4,650 square feet of living space and nearly 700 square feet of terraces. Belfiore will feature all of Interfin's trademark amenities: a 24-hour manned guardhouse, 24-hour concierge and valet service, hidden one-level underground parking garage and an extensive recreational outdoor area with a swimming pool and manicured garden.
Sudhoff Properties is handling the sales and marketing for the building, which is now 60 percent sold.
"Sales for this exciting addition to Uptown have exceeded expectations. Belfiore will satisfy a growing desire for spacious, luxury high-rise homes in the Galleria area," said Jacob Sudhoff, founder of Sudhoff Properties.
Construction on Belfiore is expected to be complete by the spring of 2016.
About Interfin
Founded in 1978, Interfin is a Houston-based, diversified real estate development company specializing in the development, construction and management of landmark residential and commercial real estate projects. Interfin has gained an international reputation for combining elegant architecture with construction of the highest quality to provide working and living developments that are unparalleled. Interfin developed in the Uptown/Galleria area Four-Leaf Towers, Four Oaks Place, Villa d'Este Condominium, Montebello, Hotel Granduca, Uptown Park Shopping Center and Vintage Park Shopping Center in northwest Houston. For more information on Interfin and its projects, visit http://www.interfin.com.
About Pierpoint Capital
Founded in 1995, Pierpoint is a real estate investment and development firm with substantial investments in raw land and multi-family residential developments located in Houston. Pierpoint's investors and lenders include globally recognized financial institutions and high net worth individuals.
About Sudhoff Properties
Founded by Jacob Sudhoff, Sudhoff Properties is comprised of Houston's premier new-home sales and marketing experts. The full-service firm houses an on-site sales team, marketing department and investment firm. Sudhoff's sales and marketing experts offer customized services, allowing builders and buyers to achieve the greatest impact with the least expense. For more information and a complete list of projects visit sudhoffproperties.com or call 281.652.5588.
###