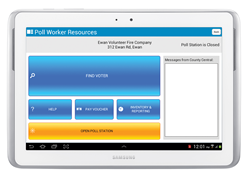 There are significant benefits to switching from antiquated, manual paper poll books to tablets.
San Diego, CA (PRWEB) March 06, 2014
Everyone Counts announced today that Gloucester County, NJ has successfully piloted its industry-leading tablet poll book using Samsung's Galaxy Note 10.1 for its recent elections, resulting in a reduction of more than 50 percent in the time it took poll workers to check in voters.
Using Everyone Counts' eLect® software with the Samsung Galaxy Note 10.1, poll workers were quickly and easily able to access the voter roll and authenticate the signatures of Harrison Township's 8,400 registered voters. The poll book provides an intuitive user interface for poll workers to access the voting roll, while the Samsung Galaxy Note's advanced S Pen technology allows for easy signature capture.
"There are significant benefits to switching from antiquated, manual paper poll books to tablets," said Lori Steele, CEO of Everyone Counts. "Not only do election officials save money and time, but Everyone Counts' state-of-the-art electronic pollbook increases accuracy, auditability and security in the voting process. We are delighted by the rave reviews from both voters and poll workers in Gloucester County and honored to have been selected for this important pilot project that could set the standard for poll station modernization in New Jersey."
Engineered with efficiency and portability in mind, the Android-powered Samsung Galaxy Note tablets are designed to improve a wide range of election tasks in a traditional poll station setting. They feature high-resolution displays and Samsung's advanced S Pen technology that provides the functionality and precision of a pen and paper on the display, opening up new opportunities for digital interaction. The Samsung KNOX enterprise security platform is also available on the latest Galaxy tablets, ensuring election and voter information is safely contained.
"Samsung strives to create products that deliver productivity, portability, and peace of mind for users in any environment," said Jennifer Langan, director of mobility product marketing for Samsung' Enterprise Business Division. "The Galaxy Note 10.1 addresses unique election needs in combination with Everyone Counts' software, and provides a powerful mobile solution for polling places that benefit from functionality like digital signature capture as well as mobility and security features."
If Gloucester County upgrades to Everyone Counts electronic poll book for future elections, they would see a significant cost-savings over printing and delivering traditional poll books. In addition, the tablet poll book allows for voters to be redirected to the correct polling place if they accidentally show up at the wrong poll station.
###
About Everyone Counts:
Everyone Counts, the world's leading provider of perpetually state-of-the-art election administration and voting systems, uniquely combines world-class expertise in technology, computer security, usability and election administration. Since 1997, Everyone Counts has modernized best practices to meet customer needs in elections worldwide. Everyone Counts' SaaS-based election administration tools and voting platform are helping governments and private membership organizations to improve their existing processes, systems and services.