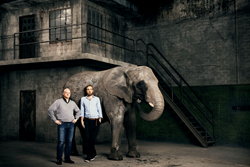 (PRWEB) March 06, 2014
CP+B announced today that Anders Davidsson has been named CEO of CP+B Scandinavia, which includes offices in Gothenburg, Stockholm and Copenhagen. Anders was previously responsible for CP+B's strategy and client service departments in the region. He will take over the CEO position from Gustav Martner who now becomes Chief Innovation Officer and Executive Chairman of CP+B Scandinavia.
"Anders came to CP+B in January 2013 and has quickly established himself as a leader and driving force," said Gustav Martner. "Together with Anders and all of our colleagues here at the agency, we have turned from a loss in 2012 to profit in 2013, attracted many new clients and started a Scandinavian expansion. It is the right time for Anders to take over the formal leadership and develop the agency further, while I focus on innovation and creative leadership."
"Some incoming CEOs might wish that the previous leader withdraw altogether, but in my case it was just the opposite," said Anders Davidsson. "Gustav and I complement each other and work together very well. I look forward to running and developing CP+B Scandinavia in conjunction with the board, our strong management team and fantastic staff."
"This move will enhance our ability to do brilliant work for our clients," said Chuck Porter, Chairman, CP+B. "And our partners at CP+B Scandinavia have always understood that that's what matters most."
Prior to CP+B, Anders was a director and board Member at the brand agency Greenspace in London, where he led work for major clients like Carlsberg and Toyota. Earlier, he oversaw the Volvo Cars account at SCP/GREY in Gothenburg. Before that, he held a number of senior marketing roles within the automotive industry. Most notably, he was part of the European marketing management team at Lexus Europe in Brussels, as part of the global marketing management teams at Ford Motor Company in Detroit and at Volvo Cars in Gothenburg.
Gustav has led CP+B's Gothenburg office and business throughout Scandinavia since the summer of 2012. He was previously one of the founders of digital agency Daddy, which was bought by CP+B in 2009. Gustav is also Co-Founder and Chairman of the online media analytics company Burt and Chairman of the Swedish Association of Communication Agencies (KOMM).
About CP+B:
CP+B, a member of the MDC Partners network, has a client list that includes KRAFT, Mondelēz International, Domino's Pizza, MetLife, Applebee's, Charles Schwab, Fruit of the Loom, Turkish Airlines, Paddy Power and Best Buy. CP+B's employees collaborate across six factories in eight locations: Boulder, Miami, Los Angeles, London, São Paulo and Gothenburg, Sweden with additional CP+B Scandinavia offices in Copenhagen and Stockholm. The agency is one of the most-awarded in the world, having been named "Agency of the Decade" by Advertising Age and "Agency of the Year" 13 times in the trade press. CP+B has won more Grand Prix awards at the Cannes Lions International Advertising Festival than any other agency in the past 15 years, and is the only agency to have won the Titanium Grand Prix two times.
Please visit us: http://www.cpbgroup.com
Follow us on Twitter: http://www.twitter.com/cpbgroup
Join us on Facebook: http://www.facebook.com/cpbgroup