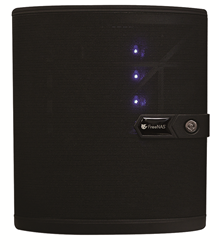 San Jose, CA (PRWEB) March 06, 2014
iXsystems is proud to announce the third iteration of its FreeNAS Mini Home and Small Office storage device. The new FreeNAS Mini hardware has been completely redesigned to support the new features that have been added to the FreeNAS software over the past two and a half years. FreeNAS itself has undergone extensive development since the version shipped with the first FreeNAS Mini model in 2012, FreeNAS 8.0.1. The new models will ship with FreeNAS 9.2.1.2 or later, and have the performance necessary to serve multiple streaming HD clients over the same network, transcode HD video to mobile devices, support multiple independent FreeNAS plugins, and support more filesystem and media sharing protocols than ever before, all with lower latency and increased throughput.
The new Mini draws extensively on feedback from the FreeNAS community. The most important new feature is the addition of ECC RAM, which prevents in-flight corruption of data, before the error-correcting properties of ZFS come into play. The CPU has been upgraded from two to eight cores, in response to requests for a CPU that can support both the I/O and encryption demands of ZFS and the parallel processing requirements of many FreeNAS plugins. A second gigabit ethernet port has been added to accommodate additional performance or for link failover, and a dedicated remote management interface is also included. Default system memory is 16GB, though an option to double the RAM to 32GB also exists in response to demand for a Mini that can leverage the full power of ZFS, without the footprint of a full-size server.
Jordan Hubbard, CTO of iXsystems, says, "This is the kind of home and small-office FreeNAS appliance I've always wanted to see us offer: High performance in a compact package, advanced fault-tolerance features to keep your data safe, and with all the remote management and monitoring features generally only available on much bigger systems. We're demanding engineers, and this is a system we would be happy to recommend to our friends!"
Some key features of the new Mini include:
Power efficient Eight-Core 2.4GHz CPU, drawing only 17 Watts
Hardware-accelerated ZFS disk encryption
16GB of ECC memory = max performance and data protection (upgradeable to 32GB)
Hot swap functionality with tool-less, front loading drive bays
Capable of saturating dual Intel Gigabit LAN Ports
Dedicated Remote Hardware Management Interface (IPMI) or option to share through on-board LAN
Latest FreeNAS version installed and configured on dedicated, internal flash device
3 x USB 2.0 Ports (2 front, 1 rear), 1 x Serial Port (DB9), 1 x VGA
Physical security: locking front bezel, latchable drive trays, and chassis lock eyelet (for cable or padlock)
Uses Western Digital Red drives, which are specifically designed for small office and home office NAS applications
More information, pricing, and quote requests are available at http://www.iXsystems.com/mini.
About FreeNAS®
FreeNAS is a free and open source Network Attached Storage operating system based on FreeBSD®. The goal of the project is to design a lightweight, BSD-based software package that acts as a full-featured NAS server, complete with a Django-based web user interface, full ZFS implementation, and the ability to interface with existing networks – regardless of operating system or protocol. FreeNAS also includes the first Free and Open Source ZFS encryption offering in the world.
About iXsystems®
iXsystems is the industry leader in Open-Source-friendly enterprise servers and storage solutions. All of our products are assembled, tested, and shipped from company headquarters in Silicon Valley, and technical support is provided in-house by the same engineers that build the systems. Thousands of companies, universities, and U.S. Government departments have come to rely on iXsystems' customer-first commitment to excellence. iXsystems champions the cause of Open Source technology by dedicating extensive resources to several FreeBSD community projects: FreeNAS®, PC-BSD®, FreeBSD®, TrueOS®, and OpenZFS.