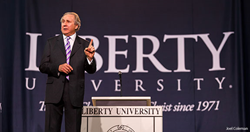 Lynchburg, VA (PRWEB) March 05, 2014
Mike Reagan speaks to students during Liberty University Convocation.
During Liberty University's Convocation on Wednesday, Mike Reagan, radio personality and son of U.S. President Ronald Reagan, relayed the legacy his father left and the contributions he made to his country and to the world.
Mike Reagan is the eldest son of former President Reagan and one of the most sought-after public speakers today. He spent nearly two decades as a conservative radio talk show host, heard across the country daily on a show syndicated by Premiere Radio Networks. He also serves as chairman and president of The Reagan Legacy Foundation.
President Jerry Falwell, Jr. introduced Reagan, reminiscing about President Reagan's visit to Liberty in 1980, which he called one of the highlights of his own college years. Falwell commended Mike Reagan for championing his father's ideals.
"He's done so much to further the causes that his father held so dear," Falwell said.
Reagan began by sharing that his father would not have been able to accomplish anything in his life and presidency if he had walked away from God.
"My father actually lived the Bible, with God, and he never forgot that," Reagan said. "He did not shove it down anybody's throat, but he lived what he preached, and that was so important to those he did business with. They knew they could take him at his word."
Reagan said his father never worried about his legacy; he was more concerned with defending the freedom of others.
"You are all lucky enough that you have been born into freedom," he told students. "And because of that, so often we get spoiled with the freedoms that we have that we don't even realize it when we are losing our freedoms each and every day. But if you live today in a former Eastern Bloc country that used to live behind the Iron Curtain, and you are 25 years old, you are the first generation to have been born into freedom in that area of the world."
Although the U.S. has done much to liberate others, Reagan said that is just the beginning.
"There is an obligation (for us) to help them … understand freedom."
Reagan talked about his father's contributions — from lowering taxes and overseeing economic growth to fighting against the Soviet Union and working to shred the Iron Curtain — and the need to educate people on history.
"Ronald Reagan did win the Cold War without firing a shot," he said. "You would hope that people in the world today, in Washington, D.C., would learn from that, how you can win a war without firing a shot if you do it correctly. But … my father could not have done any of it without going back to biblical principles."
Reagan depicted the events that occurred on the day his father was almost assassinated, reiterating that he was the only president to ever survive falling from a bullet.
"Before he went back to work, my father got on his knees, and he asked for forgiveness for his assassin, and he thanked God for his life," he said.
Reagan talked about his father's faith and how nearly losing his life was a pivotal moment — it was when he rededicated his presidency to the Lord. That moment meant a great deal to the world, Reagan said, as millions of people would earn their freedom because of President Reagan's work.
As a son, Mike Reagan said he found his father's faith inspiring and noted that it filled him with hope when President Reagan died in 2004.
"When I eulogized my father, I remember telling the audience that I was one of the luckiest people on the planet because I knew where my father was at that exact moment — he was in Heaven," he said. "I cannot think of a better gift for a parent to give a child than what my father gave to me."
Reagan said his father did not get caught up in what the media was saying about him — or even his personal legacy — because he was focused on the bigger picture.
"The reality was, his agenda was the bigger picture, the bigger picture of freedom," Reagan said. "That a world can live and enjoy the same freedoms that we enjoy today. My father said, 'Freedom is never more than a generation away from extinction. It is not passed on through the bloodstream. It is to be fought for, it is to be protected, and passed on to our youth to do the same.' And that all begins right here, at Liberty University."
Reagan expressed to students the importance of living their lives based on what they have learned at Liberty. He said they should look to examples like his father and Liberty's founder Dr. Jerry Falwell as they seek to be leaders in the world. He warned them not to let others determine their agenda but to always keep the focus on God.
After Convocation, Reagan signed books and met with students, including Greg Boyer, who was awarded the prestigious GE Reagan Foundation Scholarship in 2012. He also met a student who told him she was the daughter of one of the hostages in the Iranian Hostage Crisis; her father was freed when President Ronald Reagan took office. Later in the day, Reagan spoke as part of Child Abuse Week at Liberty University School of Law.
About Liberty University
Liberty University, founded in 1971, is the largest private, nonprofit university in the nation, the largest university in Virginia, and the largest Christian university in the world. Located near the Blue Ridge Mountains on more than 7,000 acres in Lynchburg, Va., Liberty offers more than 300 residential and 160 online education programs from the associate to the doctoral level. Liberty's mission is to train Champions for Christ with the values, knowledge, and skills essential to impact tomorrow's world.