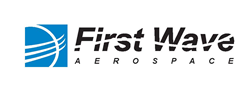 The New First Wave Is A Sales & Service Organization
Tulsa, OK (PRWEB) March 06, 2014
Commercial aircraft parts distributor First Wave Aerospace announces a new MRO Management Service with its first customer with a major account in the Tulsa area this month. The announcement marks the first new product launch in years for First Wave and is part of a turnaround strategy of a new management/ownership team for the 22-year-old firm.
"The new First Wave is a sales and service organization and this new MRO parts repair management product fits our experience and talents, as well as it provides the aerospace aftermarket with a growing need of managing MRO services and logistics," said Tony McAnly, President of First Wave Aerospace. "This product announcement capitalizes on the trend of manufacturers, MROs and airlines of shedding the headache and overhead of repairs management and positioning of spares and parts."
First Wave Aerospace provides MRO Management Services for a large manufacturing customer in the Tulsa area where First Wave purchases spares and stocks them as needed to support the manufacturer's aftermarket customers when they need replacement units and extra piece parts. They also manage the repairs process for spare parts of the customer.
Glen Hyden, First Wave Aerospace Vice President and chief marketer of the new service product, said the intent of the MRO Management Service is to serve as either a partial or full service integrator of a manufacturing company's aftermarket services and manage the service suppliers that otherwise would have been the back shops in years gone by.
"The trend is for consolidation and specialization. Manufacturers are focusing on designing and making things. Airlines are buying newer aircraft; demanding longer warranties, which increases the need for the OEMs to seek help in managing the aftermarket process of repaired parts to return to service," Hyden said. "The manufacturers are now required to support the maintenance of their products for the life of the program and long after the warranty period expires."
Tim White, First Wave's Vice President of Inventory Development said manufacturers and airlines use to shoulder that burden with a whole Department of repair analysts who would manage parts to be sent outside of the maintenance base for repairs. Now, that responsibility has shifted back to the OEM, who is turning to service managers and MRO systems like his firm offers.
"When we (partners McAnly and Hyden) first started in the MRO business years ago, all of the OEMs had their own FAA Repair Stations to support their products and all of the major airlines had a Department of ex-aircraft mechanics they called repair analysts who found repair solutions for parts in need of repair either in their own shops or outside of their maintenance hangars." White said. "Now, we're becoming those guys – the repair analysts. And, it feels good like I knew it would."
First Wave will also provide logistics, stocking and storage service for MRO Repair Management Services Customers either at the First Wave Aerospace facilities in Tulsa or at the customer's location.
First Wave Aerospace has one of the largest inventories of commercial aerospace parts in the Americas with 280,000 line items of 6.8 million parts in warehouse facilities centrally-located in Tulsa.