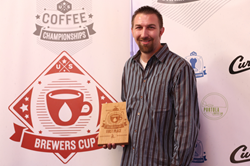 It wasn't weeks of practice that led to this moment, it was a full year of playing, documenting, and tasting.
Los Angeles, California (PRWEB) March 07, 2014
Klatch Coffee, a specialty coffee roaster in southern California, is proud to announce Todd Goldsworthy, their Wholesale Account Manager and Coffee Guru, has won the Southwestern Regional Brewers Cup.
The United States Brewers Cup is a competition that celebrates manual brewing. The first round consists of all the competitors brewing the judges' choice of coffee on their devices. During the second round the competitors brew their choice of coffee. Todd Goldsworthy choice was Klatch Coffee's Kenya Makwa AB. The Makwa was awarded 96 points from Coffee Review earlier in February.
The Kenya Makwa AB is a fantastic example of what can come from Direct Trade. Klatch Coffee follows a simple Direct Trade model where farmers who produce high quality crops are paid well above the price set through Fair Trade.
Todd prepared for the 2014 Brewers Cup for a year to ensure he brewed a perfect cup. "It wasn't weeks of practice that led to this moment, it was a full year of playing, documenting, and tasting," explains Goldsworthy. This commitment to excellence is one that is showcased in Klatch Coffee's emphasis on training and education.
Klatch Coffee's Kenya Makwa is available for purchase at http://www.klatchroasting.com and in Klatch Coffee's southern California retail locations in Rancho Cucamonga, Ontario and San Dimas.
About Klatch Coffee Inc.
Klatch is an award-winning and renowned specialty coffee company and roaster in Southern California. Awards for Klatch include being named 'Micro Coffee Roaster of the Year' by Roast Magazine. In addition, Klatch's WBC espresso blend is the only espresso ever awarded "Best Espresso in the World" at the World Barista Championships. Coffee Review, the world's leading coffee guide, has awarded over 80% of Klatch coffees with a score of 90 points or above.
To learn more about Klatch Coffee and/or purchase Award-Winning Coffee, visit http://www.KlatchRoasting.com. Klatch Fans can find the latest and up-to-date news and discounts on Facebook @KlatchCoffee and Twitter @KlatchRoasting.