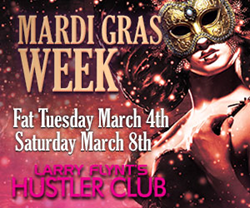 San Francisco, CA (PRWEB) March 05, 2014
Mardi Gras week is a time for celebration, and Larry Flynt's Hustler Club is doing just that. This week, they are hosting two days of special Mardi Gras events. All their customers and the general public are invited to join in on the fun.
The first special event began on Tuesday, with a special one-day only Fat Tuesday celebration. The event, called "The Return of $2 Tuesday," featured $2 well drinks and $2 domestic beers. With the club's two full bars, guests were able to take full advantage of the specials at the Tuesday event. They enjoyed discounted drinks, as well as the premier adult entertainment everyone has come to expect from The Hustler Club.
The Mardi Gras entertainment will continue Saturday, March 8 with a "Booze Boobs & Beads" event. The Hustler Club will feature some exciting New Orleans drink specials, including Southern Champagne, Mardi Gras Kiss, New Orleans Hurricane and Bourbon Street Gimlet. These New Orleans-inspired drinks will help guests get in the Mardi Gras mood and make them feel just as though they were at the New Orleans parade and party.
Larry Flynt's Hustler Club encourages everyone to join them in the Mardi Gras fun. More information about their event and entertainment can be found at http://hustlerclubsf.com/.
About Larry Flynt's Hustler Club:
Larry Flynt's Hustler Club is a world famous gentleman's club which delivers the ultimate adult entertainment experience to all their customers. Located in the North Beach district of San Francisco, The Hustler Club features two full bars, valet parking, private VIP booths, party packages, free limo service, concierge service and VIP bottle service. Home to the stunning Hustler Honeys, the party at The Hustler Club never truly stops, offering San Francisco's true afterhours entertainment until 5 a.m. all weekend long. This premier gentleman's club is a part of BSC Management and is always ready to accommodate all their customers and show them a great time. To learn more about Larry Flynt's Hustler Club, visit their website at http://hustlerclubsf.com/.