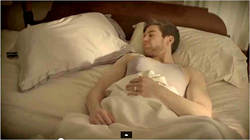 Adweek.com: 'The Year's Most Provocative Valentine's Day Ad Is Also One of Its Most Touching'
Las Vegas, NV (PRWEB) March 07, 2014
Empowered Products, Inc., [OTCBB: EMPO] maker of the popular PINK® and Gun Oil® personal lubricants, announced today that its first-ever television and Internet commercial for Valentine's Day 2014 was a critical and commercial success.
Check out Empowered Products complete Gun Oil and PINK product lines at: http://www.gunoil.com and http://www.pinkforus.com.
The 60-second spot has been viewed more the 315,000 times on the Empowered Products channel on Youtube.com at http://youtu.be/yaK5i-DLBPE, and was praised by major media and bloggers for its unique approach and on-target tone. More importantly, the company saw significant traffic to its online sales venues attributed to the commercial.
Adweek.com declared it: "The Year's Most Provocative Valentine's Day Ad Is Also One of Its Most Touching" -- http://www.adweek.com/adfreak/years-most-provocative-valentines-day-ad-also-one-its-most-touching-155691
Huffington Post declared: "Valentine's Day Ad Gives Sweet Salute To Gay Military Members" -- http://www.huffingtonpost.com/2014/02/13/gun-oil-ad-gay-military-members_n_4780837.html
Empowered Products stated that it believed the commercial was the first by a major U.S. manufacturer or publicly-traded company to utilize an authentic portrayal of marriage equality and service by gays in the U.S. military. The commercial tells the story of a husband wistfully going through the motions of daily life in the family home awaiting the return of his partner and the joy of his homecoming from service.
Product Lines and Availability
PINK and Gun Oil personal lubricant products are available in silicone, water-based and hybrid formulas. The full line of PINK products can be purchased online, and selected products are available nationwide at Walgreens, CVS and Rite-Aid stores, and in selected Walmart, Kroger (and Kroger family of stores), and H-E-B retail locations, and online at Target.com and Walgreens.com. PINK and Gun Oil products also can be found in many adult retail and online stores.
About Empowered Products, Inc.
Empowered Products, Inc. [OTCBB: EMPO], with headquarters in Las Vegas, Nev., has forged a leading presence in the global wellness industry with the development, manufacture, and distribution of high-quality sexual enhancement and personal wellness products for men and women. The Company's branded PINK and Gun Oil lines of lubricants and supplements are available in more than 30,000 retail locations in more than 30 countries. For more information, visit the company website at http://www.EmpoweredProducts.com or call (800) 929-0407.