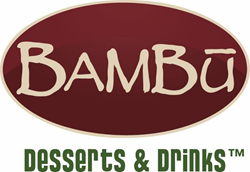 Portland, Oregon (PRWEB) March 05, 2014
Bambu Desserts & Drinks, the renowned San Francisco Bay Area Vietnamese dessert drinks and coffee chain, announced today the grand opening of its first shop in Oregon. "Chè-mania is spreading across the U.S. and we are excited about Portland joining or family of shops," said Kelly Nguyen, co-founder and CEO of Bambu Desserts & Drinks, Inc. "Chè is a type of Vietnamese dessert which we like to describe as enjoyment in a cup for all ages."
Located at Powell Station—8001 SE Powell Blvd, Suite M, Portland, Oregon 97206, Bambu-Portland's grand opening activities are scheduled to kick off at 10:00 AM Saturday, March 8th. "My husband and I fell in love with Bambu the first time we heard about," said Lannette Do, co-owner of Bambu-Portland. "We truly want my friends, family and people of Portland to experience Bambu."
Special family dessert and drink promotions will continue through Sunday, March 9th. "After months of anticipation, we are excited to be open and begin serving Bambu's made-to-order che' desserts, unique coffees and fresh smoothies," said Tony Ong, Lannette's husband and co-owner of Bambu-Portland.
This Powell Station (previous Food 4 Less Mall) shoppe is surrounded by many popular Asian shopping, professional services, food, and entertainment establishments. Portland's diverse market is sure to fall in love with Bambu's family friendly and expansive coffee, tea and dessert drinks menu. With nearly 100 items to select from, Bambu customers of all ages can find something that is a perfect fit for their tastes.
"Tony and Lannette are doing something similar to what my sisters and I did when we opened our first Bambu in San Jose," continued Kelly Nguyen. "They have opened a family-owned desserts and drinks business that they can be proud to invite and share with their community. I'm looking forward to participating in Saturday's grand opening."
Bambu Desserts & Drinks was founded in 2008 by four sisters in San Jose, California. With 34 new shops opening in the past 19 months, Bambu has become nationally known for its fresh, healthy and colorful Vietnamese-inspired chè, fresh coconut drinks, Vietnamese espressos, blended coffees, and exotic smoothies. Their unique, but flexible menu of coffees, teas and drinks allows you to order any item "just the way you love it" including extra jellies, pearls, or shots of espresso.
For more information on Bambu Desserts & Drinks visit http://www.drinkbambu.com.