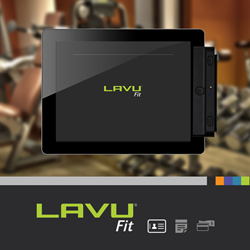 We used all the resources the Apple iPad has to develop Lavu Fit.
Albuquerque, NM (PRWEB) March 06, 2014
Lavu Fit is designed to bring the ease of the cloud computing iPad point of sale technology to a gym, fitness house, martial arts dojo, or any athletic center. By bringing Lavu iPad POS to the fitness world, it was important to make it easier for members to access the gym. Integrated RFID scanners let gym members quickly scan their card on the way in. Members can also sign waivers directly on the iPad, in case the gym or center requires a form for equipment use or training purposes. Customer Management features include a full customer database with recurring billing functions to auto-collect payments without additional action by the business or member.
Jared Mancinelli, President of Wired For Plastic, voiced about his experience with Lavu Fit, "Overall, Lavu Fit is a monster to the Fitness world. It eliminates the PC, instituting a "Mac"terpiece."
Mancinelli has clients currently using Lavu Fit and added by saying, "Membership Solution costs are eliminated with the auto invoice feature which will save most gyms over $1000 a month! These guys are truly excited to be part of this revolution."
With the integration of badging-in and out this allows a fitness or training center to use membership cards to track its members. This makes the checking in process simple and easy. The member just has to touch a card to the reader, and the gym staff can verify the account holder and identification.
For this niche version of Lavu iPad POS, developers at Lavu Inc. sought to take full advantage of the Apple iOS hardware on which it has built the foundation of it's technology. The Customer Management feature allows for the creation of a user account directly through the Lavu iPad POS application using capabilities of the iPad hardware. As Tom Poyer from the core developer team described, "We used all the resources the Apple iPad has to develop Lavu Fit, which is a seamless experience for the new gym member and staff a like. We did everything from activating member cards and signing on the iPad to taking profile pictures with the iPad's camera and setting an option for recurring billing." Focusing on efficiency in addition to the experience, Lavu Fit pulled multiple steps and processes into one. "The whole process takes only a few minutes," Poyer added.
All the existing fundamental features of Lavu iPad POS are included to give any gym the flexibility to operate effectively. Lavu Fit is designed to allow a gym or athletic facility more time to be spent focusing on member growth and actual training.