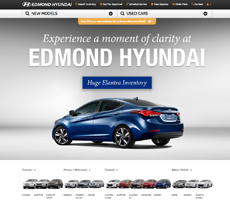 The user experience combined with the cutting-edge technology used on the backend of the site allows a more relevant message to be delivered to the customer.
Oklahoma City, OKlahoma (PRWEB) March 06, 2014
Edmond Hyundai, a North Oklahoma City Hyundai dealership, announced that they will be launching a new customized website in the beginning of March. The dealership will host their complete inventory on the site, including a variety of new and used cars, and it will also feature other utilities such as the ability to schedule a service appointment, order parts, chat live with business development specialists and view discounts and specials that are available.
"We're excited to take Edmond Hyundai to the next level when it comes to considering the customer," said Doug Travis, Chief Operating Officer of Edmond Hyundai. "All of the new features and the functionality of the site have been implemented for the purpose of creating a greater user experience for the buyer in the market."
After the launch, customers will be able to schedule a service appointment online, schedule a test drive online, and make an online offer. There is also a feature where customers can sign in with their unique username in order to reschedule or cancel an existing appointment. If a customer vehicle calls for a part to be replaced, the new website has an online order form to enter the owner's information to begin the process.
An additional, popular feature for those looking to buy a vehicle is the option to live chat with trained customer service representatives right on the site. This feature launches upon a user visiting the local Hyundai dealership in Oklahoma's site and can help answer customers' questions quickly and efficiently.
The site also hosts a specials page that highlights new and used Hyundai specials as well as parts and discount coupons. Other specialty offers will be held from time to time as well. Edmond Hyundai is proud to provide military car discounts, recent graduates' student car discounts, and disability specials.
The Hyundai dealership's new site has the credit pre-approval functionality in order to streamline the buying process before the potential customer ever visits the Hyundai dealership. Edmond Hyundai's business managers have the ability to develop a custom plan by working with third-party lenders and credit unions.
"The user experience combined with the cutting-edge technology used on the back-end of the site allows a more relevant message to be delivered to the customer," said Matt Styers with Edmond Hyundai's marketing department.
Edmond Hyundai has been an Oklahoma City car dealership for over eight years, seven of those years as Oklahoma's number one Hyundai dealership. With the customer in mind, Edmond Hyundai strives to provide the best service in every department. The launch of the new website is no different, and it is their hope the new site will provide customers with the information, search functionality, and appeal customers want and deserve.