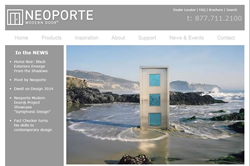 'Our clientele are sophisticated and web savvy,' said Derek Maczka, Director of Sales & Marketing. 'They spend a significant amount of time reviewing our website.'
Phoenix, AZ (PRWEB) March 12, 2014
Neoporte Modern Door® has launched a completely revised and updated website http://www.neoporte.com.
"Our clientele are sophisticated and web savvy," said Derek Maczka, Director of Sales & Marketing. "They spend a significant amount of time reviewing our website. In many cases, they already have a good idea of what type of modern steel doors they want before they reach out to our dealers or us directly. This new website provides the inspiration as well as product and company information our clients are looking for."
Clients will now be able to utilize a dealer search engine to identify appropriate where to purchase information from Neoporte's growing list of dealers across North America. The site also contains a significant amount of new support pages and information including a Frequently Asked Questions (FAQ) page, Company History page, a News feed, and the Our Process page that describes the entire ordering process from inquiry to shop drawings to delivery. Homeowners and professionals can further educate themselves about Neoporte by reading what past clients have to say about their Neoporte doors and their "Neoporte experience" in the all new Testimonials page.
The product information pages have been beefed up as well. Neoporte's entry door systems have grown to include three different series: Neoporte, PIVOT and NEO. The landing pages for each series include standard features, door designs, and a link to an Options page. This new tab-formatted Options page is full of drawings, photographs, and information to aid in the decision making process. Of particular interest is the Glass tab that contains Neoporte's new 2013-2014 glass collection photos that show off each glass option against each available door and frame finish option.
New features include:

Testimonials
News and Events
About Neoporte Modern Door®
Neoporte Modern Door® has been the industry leading supplier of modern steel doors since 2001. Hinged and pivot door systems are available in stainless steel, ERA (Cor-ten), and painted finishes. All Neoporte Modern Door® systems are made in the USA at Neoporte's state-of-the-art facility located in Phoenix, AZ.
Media Inquiries:
Derek Maczka
dmaczka(at)neoporte(dot)com
623-215-9222