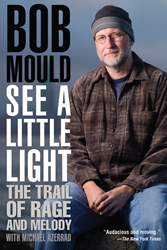 "[A] brutally honest autobiography tour de force."—Village Voice
(PRWEB) March 06, 2014
Bob Mould, of Hüsker Dü fame, will be the musical erformance on the Late Show with David Letterman, during tonight's show. He will appear with guests Tom Brokaw and Andrew Hadlock.
In his recently released memoir, See a Little Light: The Trail of Rage and Melody (Cleis Press 2013), Mould takes readers on a whirlwind ride through achieving sobriety, his acclaimed solo career, creating the hit band Sugar, a surprising detour into the world of pro wrestling, and most of all, finally finding his place in the world.
A classic story of individualism and persistence, Mould's autobiography is an open account of the rich history of one of the most revered figures of punk, whose driving force altered the shape of American music.
What people are saying about See a Little Light:
"As a long-time fan, I feel so grateful that Bob chose to share his life story in such a candid and open manner. See a Little Light stands tall with the greatest rock and roll memoirs of all time." —Benjamin Gibbard, Death Cab for Cutie
"Bob Mould's incredible journey is an inspiring one...A poetic and devastating memoir from one of the greatest artists of all time." —Margaret Cho
"Bob Mould. Those two words are synonymous with integrity...Bob is the real deal, writing and playing music for music's sake." —Henry Rollins