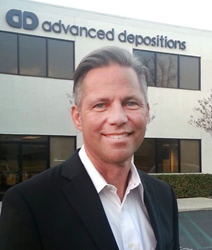 Irvine, CA (PRWEB) March 10, 2014
Mario Ekiert's extensive experience in sales and customer service will enhance Advanced Deposition's role as the leading court reporting and litigation support company. Ekiert will be joining the team at the corporate headquarters in Orange County. His primary responsibilities will be business development and sales in the Southern California market, with an emphasis on deposition technology solutions.
During his 25-year career, Ekiert has been a sales leader for several Fortune 500 companies, demonstrating a high degree of self-motivation, effective leadership and the ability to exceed customer expectations. He thoroughly enjoys engaging with customers and providing solutions that help them succeed.
"Mario's comprehensive sales background coupled with his passion for customer service is precisely what we were looking for in a new team member here at Advanced Depositions," said Jon Olsen, the company's executive vice president.
"This position is a great fit for me, both in sales and customer service," says Ekiert. "I'm looking forward to applying my experience and expertise to the continued growth of Advanced Depositions."
Mario Ekiert is also passionate about family. He and his wife, Peggy, have been married for over 30 years and have two daughters. Ekiert enjoys skiing, mountain biking and hiking with his family. He is also an avid Denver Broncos fan.
For more information please visit http://advanceddepositions.com
About Advanced Depositions
Advanced Depositions is a premium court reporting and litigation support company, which provides deposition services and the most experienced legal professionals worldwide. Its full array of services includes world-class court reporting, legal videography, translation services, streaming video technology (SVT), video conferencing, 24/7 online transcript, exhibit repository and paperless exhibit management systems. Advanced Depositions' unique combination of cutting-edge technological expertise and personal attention to client needs has become a rarity in the legal field and is what differentiates the company from others in a crowded market. Advanced Depositions provides cost-effective service and unmatched quality for every client. Its team of experienced professionals have the resources and industry know-how to manage all cases regardless of size or complexity.
Media Contact: Glenda Hoffman
855-811-3376
http://www.advanceddepositions.com