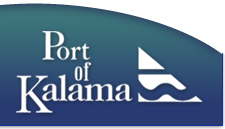 Port of Kalama offers shovel ready industrial sites and an industrial park just 30 minutes from Portland, Oregon.
(PRWEB) March 06, 2014
Port of Kalama Harbor Master Sean Clark has been elected president of the Northwest Marine Terminal Association. Clark will lead the association in its mission to exchange best practices among deep water ports in the Pacific Northwest.
Clark, who is also responsible for facility security and safety at the Port of Kalama, has represented the Port on the association for four years. The Northwest Marine Terminal Association is a voluntary organization of 15 deepwater ports in Oregon and Washington and has operated since 1939 under agreement approved by the Federal Maritime Commission. In his leadership role and under provisions of the agreement, Clark will help the association facilitate long range industry planning with respect to a broad range of factors such as setting uniform rates, establishing consistent rules and practices, exchanging relevant information, and pursuing cooperative ventures.
"It is an honor for me to represent the Port of Kalama as the association president this year," says Clark. "I look forward to facilitating discussions and activity regarding best practices among our members in addition to maintaining marine terminal rates, regulations and rules that impact all of us in the maritime industry."
About Port of Kalama – Where rail and water meet:
The Port of Kalama is located in Southwest Washington on the Columbia River and immediately off of Interstate Highway 5. The port exists to induce capital investment in an environmentally responsible manner to create jobs and to enhance public recreational opportunities. Port of Kalama's industrial area includes five miles of riverfront property adjacent to the 43' federally-maintained deep draft navigation channel of the Columbia River. The Port is served by the Burlington Northern/Santa Fe and Union Pacific railroads. There are over 20 industries located at the Port of Kalama, employing over 830 people. Port of Kalama offers all the superior facilities businesses need to thrive, and an unsurpassed quality of life. The port offers shovel ready sites, a new Industrial Park, state of the art Marine Terminals and transportation accessibility to rail and highway all just a 30 minute drive to the Portland International Airport. Port of Kalama also offers high-bandwidth communications, with dual access fiber-optic service to Seattle and Portland. Properties currently available at the port for businesses wishing to expand and thrive: http://www.showcase.com/lnewman@portofkalama.com Visit http://portofkalama.com/industrial_property.
CONTACT: Claudia Johnson, Strategic Communications, 503-799-2220/cell