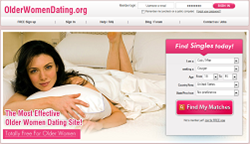 (PRWEB) March 19, 2014
Older women looking for younger men will find dating easier than ever before, thanks to Olderwomendating.org. This acclaimed older women dating platform has recently added yet another user friendly feature to their website. Making use of the new feature "Let's Meet", users of Olderwomendating.org will find that it's much easier to stay connected with other users by browsing their photographs. Older Women Dating is a highly preferred dating platform that has always been proactively involved in enhancing user experience by including new features from time to time. Thousands of older women around the world rely on Olderwomendating.org for a hassle free, easy, and safe dating experience without spending anything.
Rapidly increasing popularity of dating amongst older women and younger men has led to the creation of hundreds of older women dating services. However, Olderwomendating.org stands apart from most of them by virtue of their top rated service. The organization behind this popular dating website has been a market leader in the dating industry for more than a decade. The website boasts of popular features such as cougar date ideas, cougar forums, cougar blogs, and cougar/cub fashion shows, etc. Unlike most other similar websites, Olderwomendating.org allows users to verify their age, photo, and income without spending anything at all.
The "Let's Meet" feature has further enhanced the experience for older women dating younger men. This new feature will provide users a number of options such as "meet them", "interested to meet you", and "mutually interested". As a result, one can easily browse and opt for users they want to date. At the same time, users will also find that it's easier to locate people who are interested in them. This feature has already helped many Olderwomendating.org users find their date without any effort whatsoever.
Describing her own experience of using this new feature, one of many delighted users of Olderwomendating.org recently said, "When I opened olderwomendating as usual, I found that there are 126 people interested to meet me. I checked their photos and then profiles one by one. Guess what, I found a date."
About Olderwomendating.org: Olderwomendating.org is one of the most trusted online dating platform for older women looking for younger men. This popular older women dating website has recently launched the "Let's Meet" feature to make dating more enjoyable for its users.