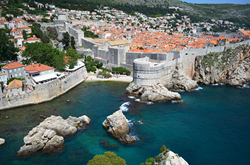 San Francisco, CA (PRWEB) March 06, 2014
From robots to reverence, the team of travel experts at Viator.com – the leading resource for researching and booking tours and activities worldwide – has selected their top picks for hot new tours and activities for 2014. This eclectic selection of curated destination activities showcases the broad variety of travel experiences travelers can discover through Viator.com and the Viator Tours & Activities App. From authentic insider experiences to just plain fun stuff to do, this group of activities will make travel in 2014 a lot more interesting.
Viator's Team Picks for 2014
The Viator team cast their votes for the best new tour for 2014 and the result was a tie. An eclectic combo, the Robot Cabaret in Tokyo and the 'Game of Thrones' Walking Tour in Dubrovnik topped the ballot.

Ready for some fun in Japan? Include a visit to the Kabukichō red-light district for the Tokyo Robot Evening Cabaret – a high-energy show featuring taiko drums, techno music, dancing robots and the occasional giant panda.
Only available through Viator, the "Game of Thrones" Walking Tour of Dubrovnik is an expertly-guided tour exploring UNESCO-listed Old Town, also known as "King's Landing," through the eyes of the Targaryens, Baratheons and Starks.
Up and comer: A potential rival to the very popular Gladiator for a Day experience in Rome, the brand new Ninja School: Ninja for a Day experience in Tokyo teaches the skills of meditation, weaponry and fighting practiced by the masters of stealth and disguise – shinobi (ninja).
Insider Access
The strings have been pulled and the velvet ropes moved aside. Viator's newest activities in the VIP category provide special and unique access to some of the most popular and iconic attractions worldwide.

Energized and Adventurous Experiences
The art, dance, drink and cuisine of a culture can bring any traveler closer to their destination. Exclusive tastings, hands-on training and exhilarating activities make them even more memorable.

Learn the history and practice the craft of the underground art scene with a local artist as your guide during the Berlin Street Art Tour and Graffiti Workshop.
Straight from the barrel, the Viator Exclusive Jose Cuervo VIP Distillery Tour with Private Tequila Tastings in Guadalajara is an insider look at the world's oldest tequila production facility with tastings in a private cellar and the option to create your own tequila bottle.
Dine under the stars, enjoy a falconry display and traditional dancing, all at a Bedouin-inspired camp during the Luxury Desert Experience: Dinner and Emirati Activities with Vintage Land Rover Transport from Dubai.
Take to the skies during the Viator VIP: Cape Winelands Dinner and Wine Helicopter Tour from Cape Town and enjoy a gourmet dinner at the Constantia Uitsig Restaurant.
About Viator
Viator is the leading global tours and activities provider for travelers, delivering online and mobile access to thousands of curated trip activities including tours, attractions, shore excursions and private guides, in more than 1,500 destinations worldwide. In-house travel experts work with trusted local operators to ensure the quality and value of every experience, all backed by Viator's 24/7 customer service and global low-price guarantee. With more than 500,000 verified reviews plus exclusive videos and insider travel tips, Viator has everything a traveler needs to find and book the best things to do worldwide. In addition to the flagship site – Viator.com – travelers can book in advance or in-destination via the Viator Tours and Activities App, as well as local-language sites for European, Latin American and Asian travelers. Viator also provides tours and activities to more than 3,000 affiliate partners including some of the world's top airlines, hotels and online travel agencies. Founded in 1995, Viator is a privately held company headquartered in San Francisco with regional offices in Sydney, London and Las Vegas. Viator – travel with an insider.