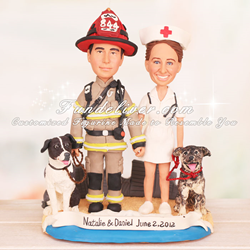 (PRWEB) March 06, 2014
Recently, UniqueWeddingCakeToppers.com, a prestigious supplier in the industry of custom wedding cake toppers, has added over 80 items to its product line. The CEO of the company says that these toppers are specially made to expand its online market. All of them are available at cost-effective prices.
"We are pleased to provide worldwide people with more unusual wedding cake toppers. Whether you are looking for firefighter wedding cake toppers or Cleveland browns wedding cake toppers, our online store will always have something just made for you. At UniqueWeddingCakeToppers.com, you will receive what you want at affordable prices. What's more, all customers from around the world can get their orders in the shortest time," he says.
All the company's top experts are ready to make quality toppers for worldwide newlyweds. Customers are supposed to send their ideas and images to the experts at the very first. Then, the experts will make general sketches and then modify the original design. All related sketches are sent to the clients for approval. The company is excellent in great pre - sales and after-sale service.
Furthermore, all the company's toppers have same characteristics: vivid design, fine materials and uniqueness. All of them are made especially made for those who want to have a funny wedding.
About UniqueWeddingCakeToppers.com
UniqueWeddingCakeToppers.com is a famous online supplier of vivid cake toppers for weddings, birthday parties, going away parties and many other events. With an aim of making the events more interesting and memorable, the company often offers great savings on its special products. At its online store, customer satisfaction is among the top priorities.
More details about its funny items can be found at http://www.uniqueweddingcaketoppers.com/.