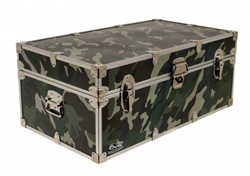 I had shopped around and less expensive ones were cheaply made compared to this one.
Boyd, WI (PRWEB) March 06, 2014
While nobody can resist the character and charm of a classic-looking trunk, it can be fun to see what they look like when dressed up in different styles than the typical, traditional look. Take a sharp style or pattern and flip the look of a traditional trunk on its ear!
Dress a trunk up in camo, for instance, and see the edge that the camo design gives to the camp trunk. C&N Footlockers manufactures their own Steel Camo Trunk with a general camouflage style—blended shades of green (and a little brown). Kids definitely love this cool camo look.
Several months ago, C&N Footlockers replaced their Steel Camo Trunk, introducing another camouflage style to their collection of trunks for kids going to summer camp. They call it the Mossy Oak Camo Trunk. This woodsy, eye-grabbing trunk is a visual treat and, unlike any other C&N Trunk, this one has a printed fabric in place of the usual metal exterior.
The Mossy Oak Camo Trunk is made with the same flawless construction as they gave their Steel Camo Trunk. The interior is lined with DuraWrap Liner which is water-resistant, odor-free, and virtually tear-proof.
But now the C&N Footlockers' Steel Camp Trunk has returned to stand alongside the Mossy Oak Camo Trunk!
"I was very impressed with the construction of this footlocker," wrote one happy customer in reviewing the Mossy Oak Trunk on the Web site of a summer camp retailer called Everything Summer Camp—the home of C&N Footlockers. "I had shopped around and less expensive ones were cheaply made compared to this one. My son loved the camo style. The lining really adds to the attractiveness of the product."
Find both C&N Footlockers' Mossy Oak and Steel Camo trunks at Everything Summer Camp.
About Everything Summer Camp
Everything Summer Camp has been helping kids get ready for summer camp since 1987. Their wide selection of camping gear includes camp trunks and other camping supplies. Top selling items include water bottles, cot-sized bedding, rain jackets, insect repellent, iron on labels, and more. Known for their customer service and fast shipping Everything Summer Camp is recommended by more camps than any other camp outfitter.
Visit http://www.EverythingSummerCamp.com to learn more about camp footlockers, name labels, duffel bags, and camping supplies.