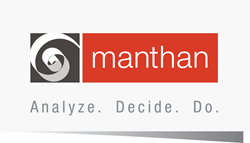 Manthan's solutions optimize the complete retail business decision lifecycle, with actionable insights for every business scenario
London (PRWEB UK) 7 March 2014
Manthan, the global leader in Retail Analytics and Business Intelligence, announced today that it will be exhibiting at the Retail Business Technology Expo, London, March 11-12, 2014. RBTE is Europe's largest and fastest growing retail event that gathers over 9000 visitors from marketing, merchandising, fraud and supply chain to eCommerce, IT, operations and payments.
At this event Manthan will showcase its award winning ARC portfolio of Retail Analytics products with path breaking decision making capabilities specific to the Retail industry. Manthan's Analytical products and solutions enable data-driven analysis, decision making and execution throughout the Retail lifecycle. These solutions are architected with deep Retail industry expertise bringing together, analytics, technology, and best in class industry practices under one roof that makes Manthan one of the world's largest and the only team focusing on 'Only Analytics and Only Retail'.
At Retail Business Technology Expo visitors can expect to see how Manthan helps Retailers across the world win with data driven retail execution. Manthan will showcase its solutions across:
#Customer Marketing: ARC Customer Analytics to achieve comprehensive, multi-channel customer understanding and using deep insights to drive profitable marketing execution.
#Merchandise Management: ARC Merchandising Analytics to make informed merchandising decisions based on complete analysis of the product, category and store performance.
#Multi-channel Management: ARC eCommerce Analytics to address every nuance of omni-channel retailing and attract right audiences to both physical and online store.
#Supplier Collaboration: ARC Vendor Insights and Vendor Link to make collaborative strategies to enable better demand fulfillment, generate greater customer loyalty and improve forecasting, promotion design and execution.
#Store Operations: ARC Store Operations to ensure that every hand, in every store, has access to real-time information on every aspect of store performance.
Manthan will be demonstrating at Booth #844, ARTS pavilion at Earls court, London. To make an appointment and see ARC solutions in action, Retailers can click here
---------------------
About Manthan
Manthan serves as the Chief Analytics Officer for global consumer industries. Manthan's portfolio of analytics products and solutions are complete as they enable data-driven analysis, decision-making and execution throughout the retail lifecycle. Manthan's solutions are architected with deep industry expertise, bringing together analytics, technology and industry-practices to provide sophisticated and intuitive analytical capability.
Manthan is a private limited company with global private equity firms like Norwest Venture Partners, IDG Ventures, and Fidelity Private Equity on its board. For more information, please visit http://www.manthansystems.com.