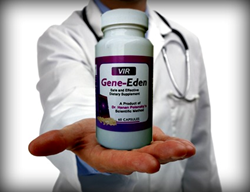 Doctors in Manitoba, who are concerned about their patients' ability to afford the HPV vaccine, and would like to suggest a treatment other than a surgical procedure for HPV infected women, should read the study on Gene-Eden-VIR. – Mike Evans, polyDNA
Rochester, NY (PRWEB) March 12, 2014
At least one Canadian province will cut funding for Gardasil, the HPV vaccine. Up until recently, women in Manitoba were able to get vaccinated for free (1). Some Canadian doctors believe the cut is a mistake because some women may not be able to afford the HPV vaccine without government help. For these women, polyDNA recommends Gene-Eden-VIR. This affordable HPV remedy was recently proven to reduce HPV symptoms in a post-marketing clinical study.
In addition, as most Canadian doctors are aware, there are no drugs approved against an HPV infection. Therefore, polyDNA recommends Gene-Eden-VIR for women already infected with HPV.
Current surgical treatments only target HPV symptoms, such as genital warts and cervical dysplasia. These treatments include procedures, such as cryotherapy, conization, and the Loop Electrosurgical Excision Procedure (LEEP). (See the journal Pharmacology & Pharmacy, from September, 2013) (2). However, most doctors are not aware that a post-marketing clinical study recently showed that Gene-Eden-VIR reduced HPV symptoms in study participants. "Up to 70% of those studied reported a decrease in HPV symptoms (2)." polyDNA therefore recommends that doctors read the study, and learn more about Gene-Eden-VIR.
Local procedures against HPV symptoms, such as genital warts, are normally targeted by treatments that use "liquid nitrogen, a surgical knife (scalpel), a carbon dioxide (CO2) laser, or electrical current to remove the abnormal growths caused by the HPV. These growths include cells that harbor the active virus. The procedures do not target cells with the latent virus. Since they do not remove the latent virus, these procedures only produce a temporary remission (2)."
Gene-Eden-VIR is different from these surgical procedures, which are local in nature. Gene-Eden-VIR is a natural antiviral with a patented formula of five ingredients including "quercetin 100 mg, green tea extract 150 mg, cinnamon extract 50 mg, selenium 100 mcg, and licorice extract 25 mg. Gene-Eden-VIR was introduced in the marketplace at the end of 2009 (2)." Importantly, unlike most natural products, Gene-Eden-VIR underwent a post-marketing clinical study, which followed FDA guidelines.
Study authors wrote that, "Individuals infected with the HPV…reported a safe decrease in their symptoms following treatment with Gene-Eden-VIR (2)." The study authors also wrote that, "We observed a statistically significant decrease in the severity, duration, and frequency of symptoms (2)."
The study relied on patient reported outcomes (PROs). Past studies showed that PROs had a significant role in the development and evaluation of new medicines. According to the FDA, PROs are a valid and valuable source for measuring the efficacy of new drugs. They are reliable enough to warrant an approval of a label claim for a new drug in the United States. From the years 1997 to 2002, the FDA approved 23 new drugs based on results obtained in studies that used only PRO endpoints. They include six anti-migraine products (Amerge®, Ax-ert®), several anti-epileptics (Gabitril®, Keppra®), and a variety of other therapy classes (Tamiflu®, Relenza®). (See Controlled Clinical Trials, from December 2004) (3).
"Doctors in Manitoba, who are concerned about their patients' ability to afford the HPV vaccine, and would like to suggest a treatment other than a surgical procedure for HPV infected women, should read the study on Gene-Eden-VIR." – Mike Evans, polyDNA
polyDNA urges Canadian doctors to read the full study and form their own opinions. Doctors can access the study on the medical journal website at: http://www.scirp.org/journal/PaperInformation.aspx?PaperID=36101#.Uw2tDOOSz90.
To learn more about Gene-Eden-VIR and HPV, visit http://gene-eden-kill-virus.com/HPV-Remedy.php. All orders of Gene-Eden-VIR are completely confidential, and no information is shared or sold to any third party. Privacy is assured.
Reference:
(1) Province cuts funding for free HPV vaccine, doctor not happyץ Published on March 5, 2014.
http://www.cbc.ca/news/canada/manitoba/province-cuts-funding-for-free-hpv-vaccine-doctor-not-happy-1.2561103
(2) Gene-Eden-VIR Is Antiviral: Results of a Post Marketing Clinical Study. Published in September 2013
http://www.scirp.org/journal/PaperInformation.aspx?PaperID=36101#.Uw2tDOOSz90
(3) Measuring treatment impact: a review of patient-reported outcomes and other efficacy endpoints in approved product labels. Published in December 2004.
http://www.ncbi.nlm.nih.gov/pubmed/15588741
polyDNA is a biotechnology company that develops dietary supplements using the unique scientific method developed by Dr. Hanan Polansky, which is based on Computer Intuition.
In addition to his unique scientific method, Dr. Polansky published the highly acclaimed scientific discovery, called Microcompetition with Foreign DNA. The discovery explains how foreign DNA fragments, and specifically, DNA of latent viruses, cause most major diseases.
polyDNA developed Gene-Eden-VIR , an antiviral natural remedy that helps the immune system kill latent viruses.