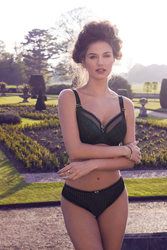 We really urge women in the local area to come and see us.
Desborough, Northamptonshire, UK (PRWEB) March 07, 2014
On Saturday 8th March, from 9am to 6pm, visitors to the Leia branch will be able to receive expert advice from the BCC, whilst taking advantage of Leia's professional bra fitting service. Staff at the underwear store will also be offering style tips, so customers can find out how the right bra can help you look good, as well as being properly equipped with the key facts on breast health.
On the day, there will be a special appearance from Babs – the BCC's giant bra mascot – as she visits the Welsh capital as part of her awareness-raising tour of the UK.
The event will also see the store offer a selection of one-day-only discounts. There will be up to 25% off selected styles; such as the best-selling Deco range from Freya, and Fantasie's Vivienne collection. Meanwhile, swimwear styles will be available with 10% off full price ranges.
What's more, Leia will also be handing out goody bags to customers who spend more than £50 during the event; while beauty brand Bare Minerals will be on-hand to offer beauty tutorials.
Kathryn Smith, Cardiff Store Manager said, "Maintaining good breast health is vital and we are thrilled to have teamed up with Breast Cancer Care to help raise awareness and offer advice about such an important topic for women. Wearing a perfectly fitting bra makes so much difference to the way you look and the way you feel not only will it lift your bust, but it will also give you the perfect silhouette. We really urge women in the local area to come and see us."
About Leia
Leia has over ninety years of lingerie design experience and aims to provide inspiring and affordable lingerie swimwear and sportswear, from an A to a K cup. Leia principally allow women to buy lingerie online via their retail website, but they also have boutiques in York and Cardiff, as well as Kent's Bluewater shopping centre. The Leia range featuring a wide choice of brands, including Freya, Fantasie, Fauve, Elomi and Huit, with ranges available from a 28" to 48" back. To find out more about Leia, visit http://www.leialingerie.com.