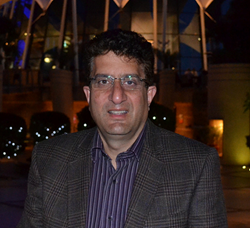 The study looked at the effects tooth decay can have on children and it has revealed that it could result in pushing back their growth
(PRWEB) March 08, 2014
Dr Tariq Drabu is the renowned dentist and owner of the successful Langley Dental Practice in Middleton, Manchester. He is also highly respected as the Clinical Lead Dentist for the Oral Surgery Clinical Assessment and treatment Services for NHS Heywood Middleton and Rochdale. For over twenty-five years he has run a busy family dental practice but he has also found the time and energy to use his knowledge and expertise to teach upcoming dentists in their postgraduate studies.
Dr Tariq Drabu was speaking recently, in reference to an article published by The Denistry Today website. The article announces news of a recently published study which reveals that harmful effects of tooth decay could be worse than previously established. The article can be read in full here.
Dr Tariq Drabu was speaking from his practice in Manchester when he said, "This study has highlighted the serious effects of tooth decay on over-all health. The study looked at the effects tooth decay can have on children and it has revealed that it could result in pushing back their growth. The study, which was published in 'Paediatrics Journal', was conducted by scientists from University College London and King Fahad Armed Forces Hospital in Saudi Arabia. It is good to see such a successful collaboration between international professionals.
Dr Tariq Drabu continued by saying, "The team of researchers set out to explore the connection between oral health and growth in children. They studied children in Saudi Arabia aged between 6 and 8 to establish levels of tooth decay and how this affected their height and weight. Levels of tooth decay were graded using the DMFT scale which is a scale to measure the seriousness of tooth decay or missing and filled teeth. The study results clearly showed a correlation between increased tooth decay and low weight and height gain in children."
Dr Tariq Drabu believes that research and scientific study are essential to ensure the continued development of dentistry. He is proud of the reputation British dentists have around the world, and is always keen to read about the latest scientific studies and research results. As a teacher of postgraduate students he wants to keep as up to date as possible, and often passes on news of new studies and research results to his postgraduate students.
He closed by saying, "I have always held the belief that tooth decay harms more than just teeth. This study shows systemic developmental problems. I am not surprised that it seems to have an effect on the growth and physical development of children too. As always I will be following the research on this subject. Clearly more research is required, but I am sure that it too will highlight how dangerous to health tooth decay is. As dentists, we must all do what we can to inform our patients of the dangers, and show them how to maintain excellent oral health, from childhood through to adulthood."
About Dr Tariq Drabu
Dr Tariq Drabu is a highly experienced and well known Manchester dentist and GDC registrant. He is accredited as a Specialist in Oral Surgery by the General Dental Council. Dr Tariq Drabu practices at his Langley Dental Practice in Manchester. Dr Drabu is a leading name in dentistry, with more than 25 years' experience in both general practice and hospital dentistry. Dr Tariq Drabu is also the Clinical Lead Dentist for the Oral Surgery Clinical Assessment and Treatment Services at NHS Heywood, Middleton and Rochdale. He is a specialist staff member at The UCLan Dental Clinic in Preston.