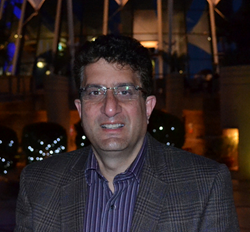 The study found that the fatty acids from the bacteria that is found in gum disease may be the cause of Kaposi's sarcoma related tumours and lesions in the mouth
(PRWEB) March 10, 2014
Dr Tariq Drabu is a successful Manchester dentist. He owns the Langley Dental Practice in Middleton, Manchester and he is the Clinical Lead Dentist for the Oral Surgery Clinical Assessment and treatment Services for NHS Heywood Middleton and Rochdale. He is always extremely busy, running a busy family practice, and teaching post graduate students. However, he always makes sure he has time to continue reading about the latest research and studies important in the field of dentistry.
Dr Tariq Drabu was speaking from Manchester recently about a recently published research study. He was referring to an article which was published by the Denistry Today website. The article, which can be read in full here, discusses the findings from a recent research study into the bacteria which is present in gum disease.
Dr Tariq Drabu, leading Manchester dentists, said, "The study found that the fatty acids from the bacteria that is found in gum disease may be the cause of Kaposi's sarcoma related tumours and lesions in the mouth. While we have already been aware for some time that poor oral health and hygiene can increase the risk of mouth cancer, this research specifies the bacteria and type of cancer it can cause. This is vitally important work in the fight to cure and prevent this terrible disease. The study was undertaken by a team of scientists from Case Western University. They studied the fatty acids to analyse how they cause the growth of tumours and lesions. This research has huge implications. It concluded that the findings could be instrumental in the development of early testing for these bacteria in a bid to prevent and fight the development of mouth cancer. If this happens, it could mean that patients could be treated before the cancers become malignant."
Dr Tariq Drabu, Manchester dentist also said, "This is such important work and I am delighted to see such progress. As the hard work and research continues we will get ever closer to fighting this terrible disease. As a family dentist and in my capacity as a Clinical Lead Dentist, I have seen too many terrible cases of mouth cancer. I believe that research scientists, cancer researchers, dentists and doctors should continue to work together to fight mouth cancer and its causes."
Dr Tariq Drabu, speaking from Manchester, closed by saying, "I will be continuing to pass information to my colleagues and students, and as always, I will be doing my best to inform patients of the dangers of gum disease and the importance of good oral hygiene. The study was published in the Journal of Virology and looked at specific bacteria which are present in the mouths of individuals with gum disease. We know that early detection is how to survive mouth cancer. But interestingly, what the research was also trying to achieve was to identify why not everyone develops this disease and what it is that prevents them from developing it. This is an important point, because when this is answered we will be even closer to combatting the disease and stopping it in its tracks."
About Dr Tariq Drabu
Dr Tariq Drabu is a highly experienced and well known Manchester dentist and GDC registrant. He is accredited as a Specialist in Oral Surgery by the General Dental Council. Dr Tariq Drabu practices at his Langley Dental Practice in Manchester. Dr Drabu is a leading name in dentistry, with more than 25 years' experience in both general practice and hospital dentistry. Dr Tariq Drabu is also the Clinical Lead Dentist for the Oral Surgery Clinical Assessment and Treatment Services at NHS Heywood, Middleton and Rochdale. He is a specialist staff member at The UCLan Dental Clinic in Preston.