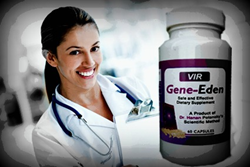 'Most people don't completely realize the dangers of an EBV infection. Most people know about the link between EBV and Mono. However, as research shows, EBV can cause cancer and therefore should be taken seriously.' – Mike Evans, polyDNA
Rochester, NY (PRWEB) March 13, 2014
"The rate of primary brain lymphoma is rising." (See the New York Times, last reviewed February 4, 2013) (2). Research shows that EBV is one of the causes of primary brain lymphoma (1). The most susceptible population are those with a weak immune system. "Patients who have a weakened immune system are at high risk of primary lymphoma of the brain… (2)." polyDNA therefore recommends that individuals learn about Gene-Eden-VIR. This natural EBV remedy was proven to reduce symptoms associated with EBV infection in a recent post-marketing clinical study that followed FDA guidelines.
Every year, thousands of individuals are diagnosed with brain cancer. In fact, "Brain tumors account for 85% to 90% of all primary central nervous system (CNS) tumors (central nervous system tumors) (1)." People with weak immune systems "have substantially increased risks for primary CNS lymphoma (1)."
"Epstein-Barr virus (EBV), also known as human herpesvirus 4, is a member of the herpes virus family. It is one of the most common human viruses. EBV is found all over the world. Most people get infected with EBV at some point in their lives." (See the CDC, last updated January 6, 2014) (3). In other words, individuals may become infected with EBV whether they have a weak or healthy immune system. In those with a weak immune system, however, EBV is more likely to attack the brain and cause cellular changes that turn into cancer.
"Without treatment, patients with primary brain lymphoma (brain cancer) survive for less than 2 months (1)." Symptoms may include changes in speech, changes in vision, confusion, fever, hallucinations, headaches, leaning to one side when walking, loss of coordination, numbness to hot, cold, and pain, personality changes, seizures, weakness in hands, and weight loss (2)."
"There is no vaccine to protect against EBV infection. You can help protect yourself by not kissing or sharing drinks, food, or personal items, like toothbrushes, with people who have EBV infection (3)." In addition, polyDNA recommends that people take Gene-Eden-VIR.
"Most people don't completely realize the dangers of an EBV infection. Most people know about the link between EBV and Mono. However, as research shows, EBV can cause cancer and therefore should be taken seriously." – Mike Evans, polyDNA
In a post marketing clinical study published on August 12, 2013 in the medical journal Pharmacology & Pharmacy in a special edition on Advances in Antiviral Drugs, researchers showed that Gene-Eden-VIR is safe and effective (4). Additionally, up to 70% of those studied reported a decrease in symptoms associated with EBV infection, and users experienced an increase in overall health (4).
Each ingredient of Gene-Eden-VIR was chosen through a scientific approach. Scientists scanned thousands of scientific and medical papers published in various medical and scientific journals around the world to identify the safest, most effective natural ingredients that target latent viruses (4).
To learn more about Gene-Eden-VIR and the Epstein Barr Virus, visit: http://gene-eden-kill-virus.com/EBV.php.
All orders of Gene-Eden-VIR are completely confidential, and no information is shared or sold to any third party. Privacy is assured.
Reference:
(1) National Cancer Institute - General Information About Adult Brain Tumors. Last modified February 28, 2014.
http://www.cancer.gov/cancertopics/pdq/treatment/adultbrain/HealthProfessional/page1
(2) New York Times - Primary Lymphoma of the Brain. February 4, 2013.
http://www.nytimes.com/health/guides/disease/primary-lymphoma-of-the-brain/overview.html
(3) CDC - Epstein Barr Virus and Infectious Mononucleosis. Last updated January 6, 2014.
http://www.cdc.gov/epstein-barr/about-ebv.html
(4) Gene-Eden-VIR Is Antiviral: Results of a Post Marketing
Clinical Study. Published on August 12, 2013.
http://gene-eden-kill-virus.com/PP_Gene-Eden-VIR-is-Antiviral.pdf
polyDNA is a biotechnology company that develops dietary supplements using the unique scientific method developed by Dr. Hanan Polansky, which is based on Computer Intuition.
In addition to his unique scientific method, Dr. Polansky published the highly acclaimed scientific discovery, called Microcompetition with Foreign DNA. The discovery explains how foreign DNA fragments, and specifically, DNA of latent viruses, cause most major diseases.
polyDNA developed Gene-Eden-VIR , an antiviral natural remedy that helps the immune system kill latent viruses.